0 Sponsored Online Programs Available
Associates Degree in Healthcare Administration
To learn how to run the healthcare industry, many professionals choose to pursue an online associates degree in healthcare administration. The industry depends on its foundation of knowledgeable staff. While doctors and nurses are, of course, essential, so too are healthcare administrators. Healthcare administrators may manage and navigate medical records and coding, HIPPA regulations, healthcare laws and ethics, and business communications. They essentially perform and manage administrative duties at healthcare agencies and clinics.
While pursuing an online associates degree in healthcare administration, students might learn how to do many things.
Comprehend and use medical office terminology.
Manage records.
Complete paperwork for patient and laboratory procedures.
Use proper codes for diagnoses and medical procedures.
Manage time, communicate clearly, think critically, make decisions, and solve problems.
Conduct research in the field.
Speak publically.
Use technology specific to the healthcare industry.
Study in these and other areas could help students develop an array of healthcare management skills and knowledge.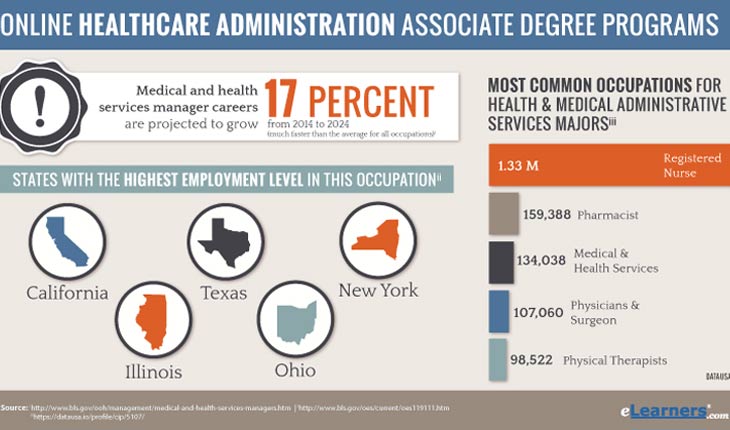 What Will I Study in an Online Associates Degree in Healthcare Administration Program?
You may study a variety of subjects across the field of healthcare administration and management. Some of your courses in online associates degrees in healthcare may cover areas specific to healthcare. For example, you might study:
Medical terminology
Electronic medical records
Health care statistics
Law and ethics in medicine
HIPPA compliance
Electronic medical records
Healthcare statistics
Insurance
Healthcare systems
Other courses might be business-related but geared toward application in the healthcare industry. For example, you might study:
Human resources management
Quality management
Performance improvement
Department management
Business communications
Reimbursement methodologies
Healthcare finance
Supervision and leadership
In many programs, you may also study anatomy, biology, and physiology so you have basic knowledge of the human system.
To conclude your program, you might do a practicum or internship in your local community. At the end of each semester, you might have to take proctored exams. In addition to taking courses in healthcare administration and business, you may have to earn general education credits in areas such as English, science, and social studies. Many students earn a healthcare management degree online within two years of fulltime study.
Some programs prepare students to sit for the Certified Coding Associate or the Certified Coding Specialist exams offered by the American Health Information Management Association or the Certified Professional Coder exam offered by the American Academy of Professional Coders.
I'm Interested in Pursuing an Online Associates Degree in Healthcare Administration. What's next?
Your next step is to conduct more research. Explore our sponsored listings here. Find programs that you think might meet your needs and contact them for more information. Here you can compare programs, get a sense of their curricula, and perhaps determine how they are structured. Information like this could help you make a powerful decision. Begin your journey now!