What is Healthcare Administration?
Healthcare administration encompasses thousands of medical professionals – from the front desk employees who help you book your physician appointments, to the C-level executives who run your local hospitals and direct your state's health service agencies.
"Administration" is just another word for management, and "healthcare" is broad enough to fill a book with its many types of specialists and services. When you consider that every doctor's office, hospital, call center, laboratory, research institute, clinic, outpatient facility and residential care group needs at least a few managers, you can begin to see how numerous and how varied healthcare administration roles really are.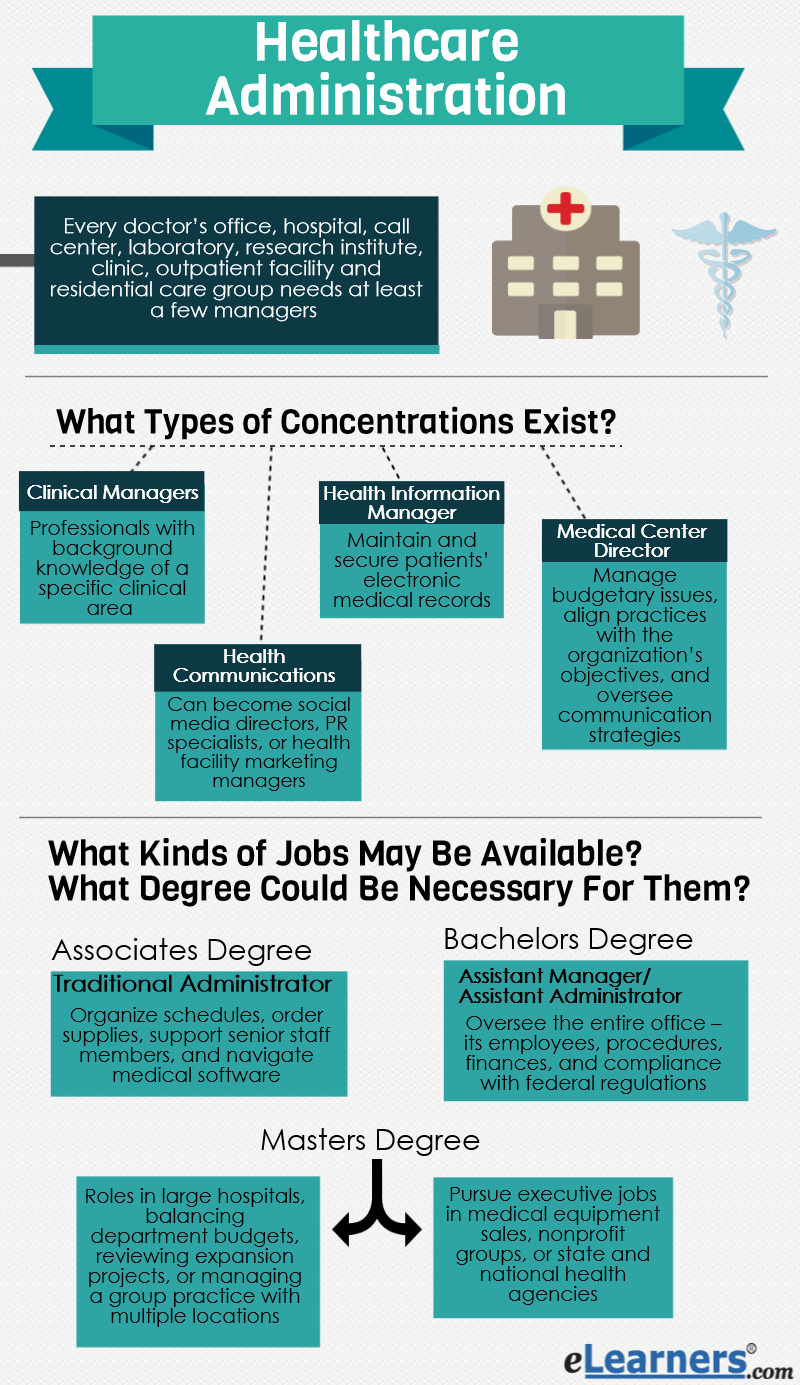 How to Start a Career in Healthcare Administration
When it comes to the health administration field, there are numerous points of entry. If you have background experience as a nurse, a physician or a medical assistant, you're already acquainted with the work environment, the terminology and many of the day-to-day challenges. If you have a technology background or a general management background, you come equipped with the other half of the necessary skill set. In either case, adding a health administration degree to your existing education will provide excellent footing for a middle-to-upper management career in healthcare.
If you've never pursued any college education, and you've never worked in the medical field, you'll have a bit more work to do. But, on the bright side, you'll be free to choose any healthcare focus that interests you. You may wish to work in a specific branch of healthcare administration – like aging services or nursing home administration. Degree programs in gerontology could prepare you for both the administration aspect of your future job and the special population you'd be helping.
Before you settle on a career path, it's a good idea to explore the various degree options and degree levels that are available to healthcare administration students. You may discover routes that you didn't know existed.
What Types of Healthcare Administration Jobs are Available?  What Degree is Necessary to Land them? Is Healthcare Administration a Good Career?
Professionals who start careers in health administration with an associates degree are often employed as traditional administrators. They organize schedules, order supplies, support senior staff members, and navigate medical software – usually with respect to medical billing, bookkeeping, patient records and other office management functions.
With experience and/or additional education (like a Bachelor in Hospital Administration Degree), healthcare administrators can assume more holistic, managerial roles, like assistant manager or assistant administrator. Instead of dealing with individual patient files or reimbursement claims, experienced administrators might oversee the entire office – its employees, procedures, finances, and compliance with federal regulations, like HIPAA.
With a master degree or an MBA in health administration, professionals can qualify for more prominent and higher-paying positions. Such professionals may obtain roles in large hospitals, balancing department budgets, reviewing expansion projects, or managing a group practice with multiple locations. Master's level graduates might also land executive jobs in medical equipment sales, nonprofit groups, or state and national health agencies.
What are Some Types of Specialization in Healthcare Administration Careers?
Healthcare "administrator" is a general term used to qualify the roles of healthcare employees who are not doctors, nurses or aides. But there are many different types of administrators, and their work load isn't strictly focused on the numbers and figures of healthcare facilities. They also hire, train and schedule employees. They research and recommend technology upgrades for their facilities.  They work closely with physicians and nurses to improve patient care. They may be responsible for alerting the public or establishing crisis plans for emergency situations.
Some health administrators are known as "clinical managers." Usually, they are professionals with background knowledge of a specific clinical area – for example, radiology or neonatal care. After completing a health administration leadership degree, former clinicians – like radiologists or nurses – may land roles as clinical leaders of such departments because they already understand much of the terrain and the daily objectives.
Other administrators concentrate their efforts as "health information managers." These professionals   maintain and secure patients' electronic medical records. They may oversee a team of medical coding employees, or they may work with IT professionals to ensure that records are accurate, legally compliant, and appropriately accessible.
Clinical research is a fast-growing area of medicine, bolstered by scientific advancements and new technologies. But it's also a complex undertaking that requires the coordination of numerous researchers, doctors, study participants, pharmaceutical executives and federal oversight measures. Students who pursue HA degrees with a focus on clinical research can become "clinical research managers," representing the first generation of health administrators to tackle this dynamic field.
Finally, public relations and social media campaigns are often integral parts of the healthcare business.  Students can study health communications or health marketing (as opposed to general marketing studies) to effectively land roles as social media directors, PR specialists, or health facility marketing managers.
What's the difference between an Associate Degree in Health Administration and an Associate Degree in Medical Billing and Coding? 
Many of the associate level degrees in health administration do include course work in medical billing and reimbursement. Usually however, A.A. and A.S. degrees in health administration are more comprehensive than billing and coding degrees. They often include course work in office administration, medical laws and compliance issues, plus a fair amount of general education course work – in subjects like psychology or college writing.
If you eventually plan to seek a bachelor's degree, it may be easier to transfer credits from a health administration degree to a four-year program, simply because more of the courses are applicable to other fields of study.  On the other hand, if you're mainly interested in a billing and coding career, you may be frustrated by the kinds of readings and assignments that general education entails. 
If you're considering an associate degree in healthcare administration, your best bet is to contact admissions counselors from several different programs. Ask how the programs differ from one another, what kinds of jobs graduates have earned, and whether or not most alumni have been successful in completing additional studies. This information will help you determine which school matches your plans and goals.
How do Health Administration Degrees (bachelor's and master's) Differ from General Business Management Degrees?
Many health administration degrees are similar to business degrees in that both sets of students study subjects like management, finance, economics and accounting. But health admin degrees focus specifically on how these lessons impact healthcare organizations. Class projects, readings and discussions will likely zero in on current trends and concerns in health management.
For example, instead of a taking a standard ethics course, health admin students might take a course titled "Health Law and Ethics." Instead of taking a general economics course, health admin students might study "U.S. Health Policy and Economics." Health field instructors and internships will also provide much more relevant feedback than general business education experiences.
What can you do with a Masters in Healthcare Administration? What are some Masters in Healthcare Administration Jobs?
Further, many health admin degrees – especially at the master's level – allow students to choose a healthcare specialty or focus area. Popular specialties include medical ethics, health informatics, health communications and marketing and clinical research. These degree options provide even more industry-tailored training, which will likely outshine the resumes of general business students or MBA grads.
What's the Difference Between an M.S., an M.B.A. and an M.H.A.?
A master's of business administration (MBA) is a business degree, designed by a college's business department. As such, the focus of an MBA – even one that allows you to specialize in healthcare – will always be best business practices and bottom line thinking. If you've never studied business, and you already have some experience in health or medicine, the heavy dose of business coursework might be a useful addition to your resume. It might carry more weight in corporate healthcare settings, where business people outnumber clinicians or nonprofit employees. An MBA is also a more versatile credential. So if you ever decided to leave the healthcare field, an MBA would be more widely recognized in the business world.
On the other hand, a lot of students pursue MBAs. There are far more MBA grads in the job market than there are MHAs or graduates with an M.S. in health administration. Many employers will favor the job candidate with the more relevant degree. If you don't already have experience in healthcare, committing to a health-specific degree (an M.S. or M.H.A.) will demonstrate your commitment to people and the profession – whereas an MBA grad with little health experience might be regarded as a business person looking for any available option.
What Materials Do I Need to Apply for a Health Administration Degree?
Associate and bachelor degree applicants usually only need a high school diploma or a GED. Some colleges may ask for letters of reference, SAT scores, or a personal statement that outlines your career goals.
Masters in health administration programs are somewhat more competitive. Applicants will likely be asked to supply undergraduate transcripts, to prove that they graduated from an accredited college with a reasonable grade point average. Other possible prerequisites include letters of reference, a personal statement, and a resume that includes relevant work experience.
If you are applying to a program that is designed for nurses who are planning to transition into management roles, you may be required to submit proof of a current RN license. If you are applying for an advanced degree in health informatics, you may be expected to demonstrate proficiency with certain types of software.
What Do I Need to Know About Accreditation and Healthcare Administration Degrees?
As with any type of college degree, it's very important that your healthcare administration degree or hospital administration degree comes from an accredited school or college. Colleges receive institutional accreditation in one of two forms: regional or national. You may have heard that regional accreditation is more prestigious than national accreditation, but this isn't always true.
It is true however that credits from regionally accredited colleges are easier to transfer than credits from nationally accredited colleges. Some advanced degree programs will only accept students who completed undergraduate studies at regionally accredited colleges. So if you think you might want to build on your college education at some point – advancing from an associate's degree to a bachelor's degree, or from a bachelor's degree to a master's degree – you may want to limit your search to regionally accredited schools.
Also, specific degree programs within a given college can earn something called "specialized accreditation." The Commission on Accreditation of Healthcare Management Education (CAHME) offers specialized accreditation to highly selective healthcare administration programs. According to CAHME, there are no fully online health administration degrees with CAHME accreditation. All CAHME accredited programs require some on-campus, group experiences, even if a portion of the course work is available through online classes.
However, CAHME only accredits master's level degrees – including M.A.s, M.B.A.s, M.H.A.s, M.H.S.A.s, M.P.H.s and M.S. degrees. If you're seeking an associate or a bachelor degree in healthcare administration, you don't need to be concerned with CAHME accreditation. And if you're a working professional who needs the convenience of an online master's degree, you don't necessarily have to abandon your plan for a CAHME-accredited college.
Point of caution: Healthcare administrators who manage nursing home facilities need to earn state certification. According to the Bureau of Labor Statistics, "All states and the District of Columbia require nursing care facility administrators to have a bachelor's degree, pass a licensing examination, complete a state-approved training program, and pursue continuing education. Some states also require licenses for administrators in assisted-living facilities. A license is not required in other areas of medical and health services management." Therefore, if you plan to work with elderly populations, you may wish to speak with several college enrollment counselors about how their degree programs prepare graduates for these certification requirements.