Healthcare Administration Job Outlook & Careers: Overview 
The healthcare industry is a trillion-dollar business in Americai, with companies and organizations requiring many different types of employees who specialize in certain skills to operate their businesses successfully.
If you're interested in pursuing healthcare administration careers, you may want to consider some of the following options, some of which are growing much faster than most jobs in America. Read more about the healthcare administration job outlook below.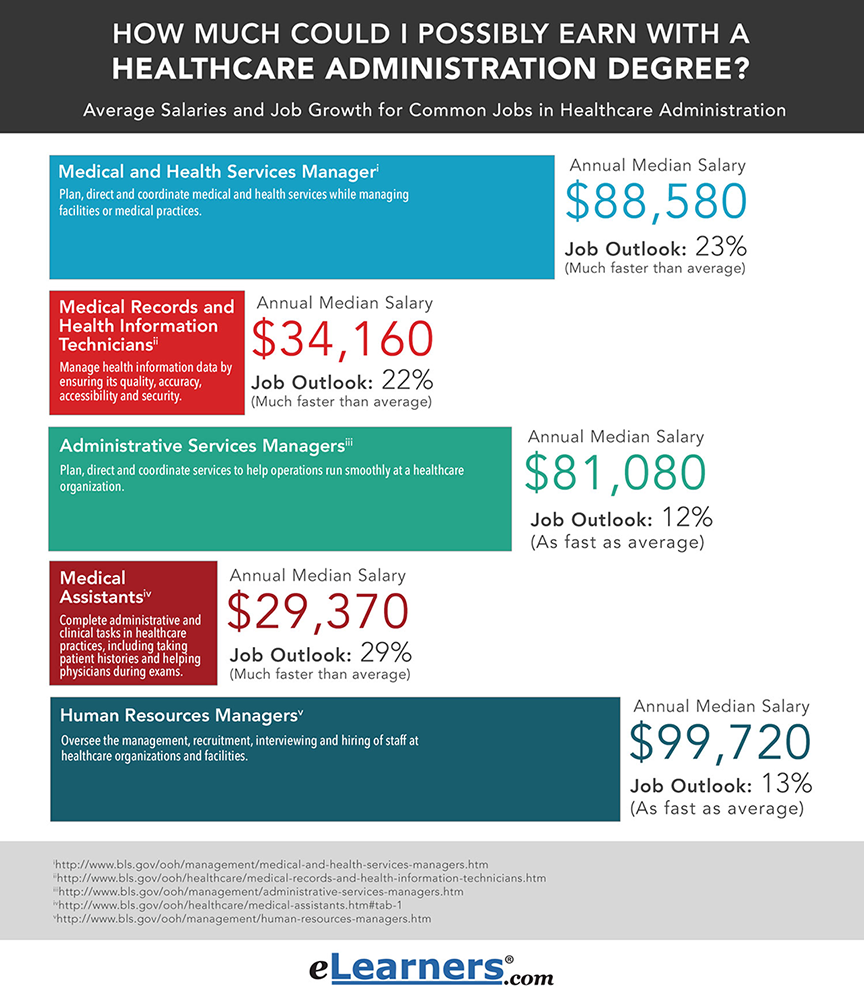 Medical and Health Services Managerii
Also called healthcare executives or healthcare administrators, medical and health services managers plan, direct, and coordinate medical and health services. They manage entire healthcare facilities, specific areas or departments, or medical practices, and must adapt to frequent changes in healthcare laws, regulations and technology.
Annual Median Salary: $88,580
Job Outlook: 23% (Much faster than average)
Medical Records and Health Information Techniciansiii
Medical records and health information technicians manage health information data by ensuring its quality, accuracy, accessibility and security. They may organize data in both paper and electronic system, and also code and categorize information for patients' medical and treatment histories and insurance claims and reimbursements.
Annual Median Salary: $34,160
Job Outlook: 22% (Much faster than average)
Administrative Services Managersiv
Administrative services managers support an organization by planning, directing and coordinating services. Healthcare organizations need a manager to keep operations running smoothly, which is why they often employ administrative services managers to keep records, maintain facilities, and purchase supplies, among other responsibilities.
Annual Median Salary: $81,080
Job Outlook: 12% (As fast as average)
Medical Assistantsv
Medical assistants complete administrative and clinical tasks in healthcare practices, including scheduling patient appointments, recording patient history and personal information, and even preparing blood for medical tests or helping the physician with patient examinations. They may also buy and organize supplies and materials needed for the office.
Annual Median Salary: $29,370
Job Outlook: 29% (Much faster than average)
Human Resources Managersvi
Human resources managers oversee the management of an organization's employees. They coordinate the recruiting, interviewing and hiring of new staff, and handle sensitive staff issues, including disciplinary measures and resolving disputes. Large healthcare facilities, such as hospitals, require staff in human resources to manage their physicians and healthcare providers, and help with administrative issues like scheduling and time-off policies.
Annual Median Salary: $99,720
Job Outlook: 13% (As fast as average)
---
[i] statisticbrain.com/health-care-industry-statistics/ [ii] bls.gov/ooh/management/medical-and-health-services-managers.htm [iii] bls.gov/ooh/healthcare/medical-records-and-health-information-technicians.htm [iv] bls.gov/ooh/management/administrative-services-managers.htm [v] bls.gov/ooh/healthcare/medical-assistants.htm#tab-1 [vi] bls.gov/ooh/management/human-resources-managers.htm