If you're looking for a definition on what is healthcare administration, look no further: it's a career field that involves managing public health systems, healthcare systems and hospital networks.
Healthcare administrators may be responsible for managing an entire facility, specializing in overseeing a specific clinical department (such as finance, budgeting or human resources) or managing a medical practice for doctors.
Some different titles for healthcare administrators include medical and health services managers and healthcare executives – but no matter the title, the primary responsibility in healthcare administration is to plan, direct and coordinate medical health services.
What Types of Tasks Do Healthcare Administrators Do?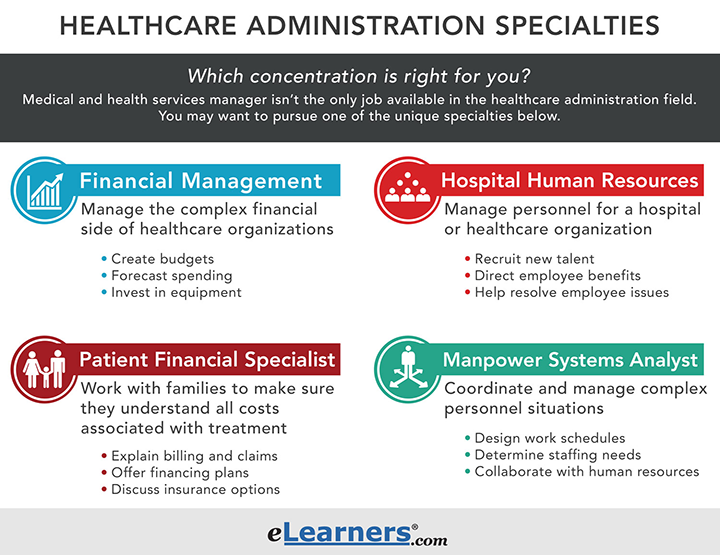 Wondering what you'd do on a day-to-day basis if you pursue a career in healthcare administration? Responsibilities can vary depending on your position and your employer, but in general here are some tasks you may perform as a healthcare administrator:
Oversee and administer financial operations including accounting, budget planning, expenditure authorization and reporting.
Manage the work of medical, technical, nursing, clerical and other employees.
Act as a liaison between medical staff, governing boards and department heads.
Analyze facility activities to help the planning and risk management process.
Plan and administer programs and services including personnel administration, coordination and training.
Serve as a recruiter and oversee the hiring process for new employees.
Create work schedules and assignments for staff.
What are Ideal Qualities for a Healthcare Administrator?
We've already answered the question "What is healthcare administration" but now it's time to overview some traits and skills that could be beneficial to a career in healthcare administration. Though the skills below could be helpful to many different occupations, we'll take a look at how they can be applied to the position of healthcare administrator.
Analytical skills: You should understand and follow current regulations and be able to adapt to new ones.
Communication skills. You must be able communicate effectively with other professionals.
Detail oriented. You may be required to organize and maintain scheduling and billing information for very large facilities.
Interpersonal skills. You should be comfortable able discussing staffing problems and patient information with other professionals.
Problem-solving skills. You may often be responsible for finding creative solutions to problems.
Technical skills. You should be able to follow advances in healthcare technology including medicine and diagnostic equipment.
The Early History of Healthcare Administration
The history of healthcare administration begins towards the end of the 19th century. From 1875 to 1925, the number of hospitals in the U.S. grew from just over 170 to around 7,000 and the number of hospital beds increased from 35,000 to 860,000i. With the growth of hospitals came a need for administrators to oversee the staff and operations.
In the early days, healthcare administrators were called superintendents and many were actually nurses who had simply taken on the role. By 1916, over 50% of the members of the American Hospital Association were graduate nurses.ii Medical doctors, laymen and catholic sisters also took on the role of superintendent.
In 1927, the first two students received degrees in healthcare administration from Marquette University in Wisconsin. A group of practicing administrators formed the first professional association – the American College of Hospital Administrators (now the American College of Healthcare Executives) – in 1933. One year later, the University of Chicago created the first graduate program in Hospital Administration, which helped to further the professional status of the field.
In In 1950, Cornell University in New York created the Sloan Graduate program in hospital administration, which required two year of formal study – a model that is followed by most programs today. In 1968, the Accrediting Commission on Graduate Education for Hospital Administration became the accrediting agency for graduate programs. Its name was changed to the Accrediting Commission on Education for Health Services Administration (ACEHSA) in 1976.
With sponsorships form many other educational and professional organizations, ACEHSA is still devoted to accountability and improving the quality of education for healthcare administration professionals. Over the years, as hospitals have grown larger and more complex, and technology has advanced, the day-to-day duties of healthcare administrators have changed substantially. However, the role still remains to help ensure that facilities provide high-quality, efficient and effective healthcare services to patients.
[ii]healthmanagementcareers.org/haddock_ch01.pd