Whether you've already graduated, are currently studying organizational leadership, or are thinking about applying, you may be curious about what organizational leadership careers actually entail. The short answer is that there's a world of opportunity, which your organizational leadership programs could help you best prepare for.
Organizational leadership, as an academic field, centers on—you guessed it—leadership and how organizational leaders can be successful. Specifically, these programs aim to help current and aspiring leaders develop the skills they need to guide their teams to top success. That said, the term "organizational" is fairly broad, meaning these skills might apply to leadership in a whole spectrum and wide variety of fields and disciplines. Whether you're passionate about building up your community through nonprofit work, love education, engineering, or are passionate about accounting and finance, solid organizational leadership skills could be a huge asset in your team's success.
Because of this diverse potential, the specific paths you take may vary considerably. For one, some organizational leadership programs center their attention on a certain type of leadership, the top needs of a specific industry, or on developing a specific best set of skills. The opportunities open to you may depend on factors like what your degree program focused on, your professional background, the higher education degree you earned (e.g. bachelors vs masters degree), and more.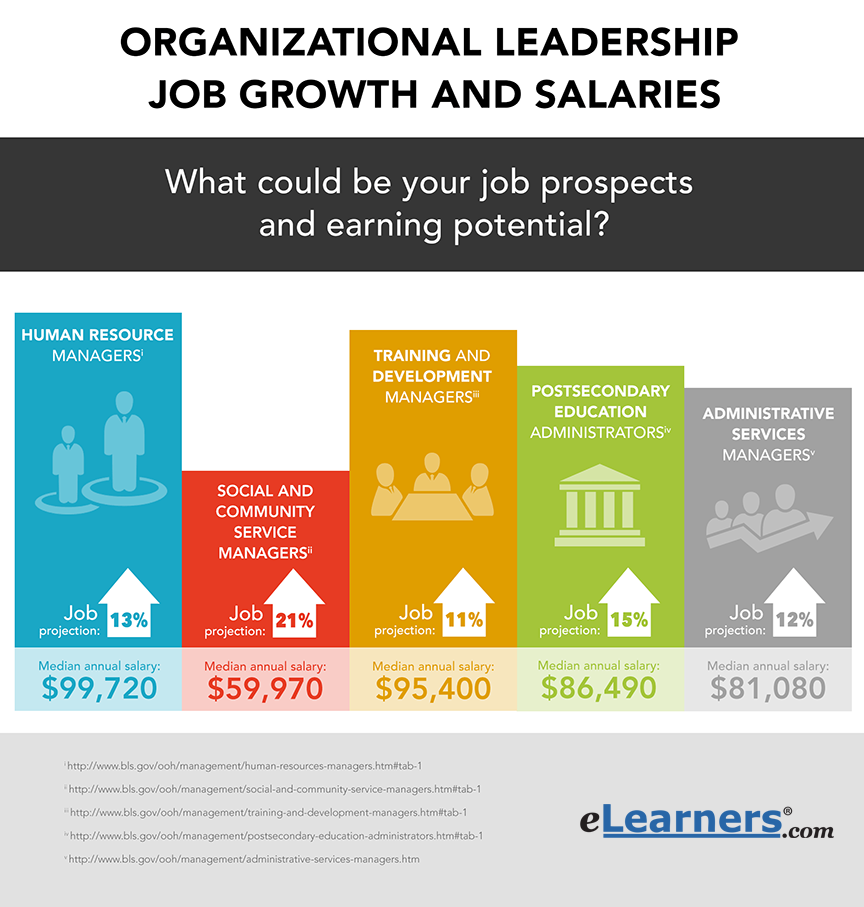 What Can You Do With ADegree in Organizational Leadership?
A degree in organizational leadership could support you in managing an array of responsibilities in the field and prepare students for success in an organization. In programs like this, you could hone skills relevant to leadership positions in all different types of industries. Organizational leadership careers and academic programs combine business principles, financial acumen, and workforce management strategies. This is meant to help students put together a tool kit, to help them help their teams thrive, whatever that means for them.
Depending on the online degree program you choose, the courses you take, and the experiences you pursue, the training and development you encounter while earning a degree in organizational leadership could help you get ready to hold these types of responsibilities that top executives have.
Strategic Planning
Human Resources Management
Workforce Development
Conflict Resolution
Change Management
Evaluating Performance of Individuals, Teams, and Organizations
And more! That's just the start when it comes to the types of things you could do with your degree in organizational leadership. If these sound like what you'd love to do on the job every day, keep reading to find out about the types of organizational leadership jobs you might want to pursue.
Examples of Organizational Leadership Careers
Pretty much any industry or organization is going to need quality leaders. After all, leadership is a key aspect in putting together effective teams, helping them work effectively and stay on task. Leadership makes important strategy decisions, figures out how to overcome organizational challenges, and helps to resolve conflicts. So it's no surprise that organizational leadership grads might be found in an array of unique positions, across organizations, and throughout various industries.
Below are a few examples of organizational leadership jobs that you might be interested in once you earn your degree. You'll also organizational leadership salary information for each of these, and other details about what it might be like to work in organizational management.
Human Resource Managersi
Human Resources Managers are responsible for many of the administrative aspects of running an organization. Specifically, human resources managers focus on people. They play a role in recruiting new staff, hiring, onboarding, overseeing benefits, and more. They may collaborate with payroll, benefits, training and development, and top executives.
But that's not all human resources managers might do. They also tend to play a key role in making sure an organization maintains a safe, healthy, and productive work environment, mediate disputes, and help to resolve conflicts. They may oversee disciplinary procedures, and consult with managers and individual employees to address crucial issues like equal opportunity, workplace harassment, compensation, advancement, and other issues.
Within the category of human resources managers, some organizations may include several similar job titles or more specific areas of responsibility. These could include payroll managers, employee relations managers, recruiting managers, and more.
Here's some more data about what it's like to work in the capacity of a human resources manager.
Median Annual Salary in 2016: $106,910
Typical Entry Level Education: Bachelor's Degree and Relevant Professional Experience
Job Outlook: 9% (About Average)
Important Qualities: Leadership, Organization, Communication, Decision Making, Interpersonal Skills
Social and Community Service Managersii
Want to use your leadership skills to help your community thrive? If so, social and community service management might be an option for you. Social and community service managers may work in nonprofit organizations, in public programs, and within other types of human services organizations. They are often responsible for overseeing the day to day function of a program, working with leadership and stakeholders to build and maintain strategies. They might be responsible for identifying needs in the community their programs could address, and helping to figure out how best to address those needs.
Social and community service managers may also use research and quantitative skills to evaluate the effectiveness of those programs. They may suggest strategies for improvement, and work to implement them. They might be involved with outreach to increase awareness of their services and/or generate additional funding, advocate to influence policy, and ensure that their staff is able to access relevant training.
The specific things you do every day as a social or community service manager, and the skills you employ from your organizational leadership degree, may vary significantly in these roles. Specifically, that may have to do with the type of organization you're working in (public, nonprofit, for-profit), the size of the organization, and the type of services they offer the community.
Some additional information about social and community service managers:
Median Annual Salary in 2016: $64,680
Typical Entry Level Education: Bachelor's Degree and Relevant Professional Experience
Job Outlook: 10% (Faster Than Average)
Important Qualities: Time Management, Problem Solving, Analysis, Managerial Skills
Training and Development Managersiii
Training and organizational development managers often work alongside human resources managers, as part of the overall workforce management strategy. Training and development manages are typically responsible for designing, coordinating, and implementing training programs and other professional education opportunities within an organization. In some cases, they oversee a team of specialized professional educators, who each manage training in certain areas or disciplines. In other cases, they may be responsible for outsourcing training opportunities.
Training and development managers may also be responsible for ensuring the quality of training programs. That includes evaluating current training processes and recommending improvement, speaking with employees to assess their needs and the effectiveness of the training they received, managing vendor contracts when training is outsourced, and educating the instructors themselves to keep their teaching skills sharp.
Working as a training and development manager may entail a variety of unique skills related to organizational leadership. For example, you might need the workforce management skills to oversee a team, accounting and budgeting skills, technological skills to keep training programs up to date, and the knowledge of business strategies to ensure training is on target.
More data about training and development manager careers:
Median Annual Salary in 2016: $105,830
Typical Entry Level Education: Bachelor's Degree and Relevant Professional Experience
Job Outlook: 7% (About Average)
Important Qualities: Communication, Leadership, Critical Thinking, Decision Making
Postsecondary Education Administratorsiv
Postsecondary education administrators are found throughout higher education. They typically hold management roles overseeing various administrative functions within a college or university. As such, the specifics of the job could vary greatly depending on the school and the nature of the position in question. Some examples of the areas a postsecondary education administrator might oversee include admissions, the registrar's office, students affairs, and academic affairs.
Those who work in admissions would be involved in strategizing how to attract potential applicants, recruiting students, overseeing the admissions process, and analyzing data to understand your student population. They might also be involved with marketing efforts and other outreach. Similarly, in student affairs, a postsecondary education administrator might be involved with strategizing to solve student housing issues, creating support systems for students, scheduling events and programs, and helping individual students overcome personal or academic issues.
Of course, the above are only a few examples. Overall, the breadth of responsibilities held by a postsecondary education administrator may hinge on the size of the school in question. Smaller schools may have fewer administrators, meaning that one administrator might oversee multiple areas, whereas at large public institutions you might have a narrower scope.
Median Annual Salary in 2016: $90,760
Typical Entry Level Education: Master's Degree
Job Outlook: 9% (Faster Than Average)
Important Qualities: Computer Skills, Organization, Problem Solving, Interpersonal Skills
Administrative Services Managersv
Administrative services managers may go by a variety of titles, but whatever they're called, they typically oversee the support services that help an organization function on a day to day basis. This could vary significantly, depending on the size of the organization, the industry, and the needs of that particular office. Administrative services managers might also be called business office managers or operations managers, depending on the type and breadth of their responsibilities and the structure of that particular organization.
Administrative services managers may either oversee a team of people responsible for, or be themselves responsible for a variety of administrative tasks. These include supervising clerical personnel, ordering and distributing office supplies, developing and maintaining records; budgeting for contracts, supplies, and equipment; overseeing policies and procedures and recommending changes as needed, and facilities management.
Some more specialized types of administrative services managers include contract administrators, facility managers, and records and information managers.
Median Annual Salary in 2016: $90,050
Typical Entry Level Education: Bachelor's Degree
Job Outlook: 8% (About Average)
Important Qualities: Analysis, Attention to Detail, Leadership, Communication
Top Executivesvi
Top executives in an organization may play a variety of roles, and go by a number of different titles. Just a few examples include C-Suite Executives like Chief Executive Officers (CEOs), Chief Operating Officers (COOs) and Chief Financial Officers (CFOs) among others. However, directors, presidents, and vice presidents also fall within this category. Specific titles and hierarchy, as well as what areas of responsibility they cover, typically hinge on the organizational structure at that company.
Top executives may be responsible for high level strategic decision making. They may help to develop and inform organizational goals, procedures, and processes. They could have the final say on budgets and financial activities, as well as appointing managers or department heads. Often, top executives report to a board of directors or trustees, and may interact with peers, competitors, and potential clients.
Outside the corporate world, the equivalent for top executives could be mayors, governors, county administrators, or the heads of public organizations and nonprofits. Within education, the equivalent might be a superintendent or university president.
Median Annual Salary in 2016: $103,950
Typical Entry Level Education: Bachelor's Degree and Relevant Professional Experience
Job Outlook: 6% (About Average)
Important Qualities: Leadership, Communication, Problem Solving, Time Management, Decision Making
Sales Managersvii
Sales managers may oversee the sales processes and strategies at an organization. That could include an array of responsibilities, from recruiting new sales people, to helping to develop training programs, to setting goals and building strategies to meet them. They may even be responsible for analyzing data to learn how effective current sales processes are, understand competition, and inform new strategies.
Sales managers may also work closely with a number of other managers throughout an organization. For example, they might work with human resources and training and development for recruitment, onboarding, and professional development related to sales. They might work with marketing to support sales goals. And more! The specifics vary based on the need of the individual organization.
Two types of sales managers might exist: business to business (B2B), and Business to Consumer (B2C). This mostly speaks to the type of product or service being sold and the desired consumer market for it. That said, it could also impact the tone of the organization, the types of strategies being used, and the day to day responsibilities.
Median Annual Salary in 2016: $117,960
Typical Entry Level Education: Bachelor's Degree
Job Outlook: 5% (About Average)
Important Qualities: Analysis, Communication, Customer Service, Leadership
Medical and Health Services Managersviii
Medical and health services managers take administrative roles within healthcare organizations. They could also be referred to as healthcare executives, or healthcare administrators. Positions like this could be found at several levels, from being the head of a hospital or healthcare organization, to being responsible for overseeing a particular department. Overall, medical and health services managers may be responsible for coordinating the provision of medical services, overseeing a team of healthcare professionals, and ensuring the organization is kept abreast of changing technology, laws, and regulations.
Some examples of the types of responsibilities held by medical and health services managers include evaluating processes, developing goals to improve healthcare services and efficiency, managing finances, scheduling, overseeing budget issues, ensuring legal compliance, communicating with staff and other department heads, and more.
Some types of medical and health services managers include nursing home administrators, clinical managers, and health information managers. However, that's not an exhaustive list. In most states, in order to work in healthcare administration in some capacity, you might need to pursue certification or licensure. However, that may vary based on the specific role and care setting.
Median Annual Salary in 2016: $96,540
Typical Entry Level Education: Bachelor's Degree
Job Outlook: 17% (Much Faster Than Average)
Important Qualities: Analysis, Attention to Detail, Leadership, Technical Skills, Communication
Pursue Your Dream Organizational Leadership Careers
Think a organizational leadership careers might be for you? The ideas on this list aren't the only ones. With drive, experience, and leadership skills, you could find a world of opportunity before you. But the first step is to earn your organizational leadership degree! Browse organizational leadership programs here, then enroll in a program and take the first step.
---
[i] bls.gov/ooh/management/human-resources-managers.htm
[ii] bls.gov/ooh/management/social-and-community-service-managers.htm
[iii] bls.gov/ooh/management/training-and-development-managers.htm
[iv] bls.gov/ooh/management/postsecondary-education-administrators.htm
[v] bls.gov/ooh/management/administrative-services-managers.htm
[vi] bls.gov/ooh/management/top-executives.htm
[vii] bls.gov/ooh/management/sales-managers.htm
[viii] bls.gov/ooh/management/medical-and-health-services-managers.htm