As a graduate of an organizational leadership degree program, you may be curious about what types of business manager careers you could pursue. While an organizational leadership degree is specific in studying leadership across organizational settings, there may not be a single, narrow organizational leadership job description. Because you may have experience in organizing groups, building effective teams, and paving the way for organizational change, there could be a variety of industries you might wish to pursue a career like for-profit management, corporate recruiting, administration, special events, non-profits, or even education.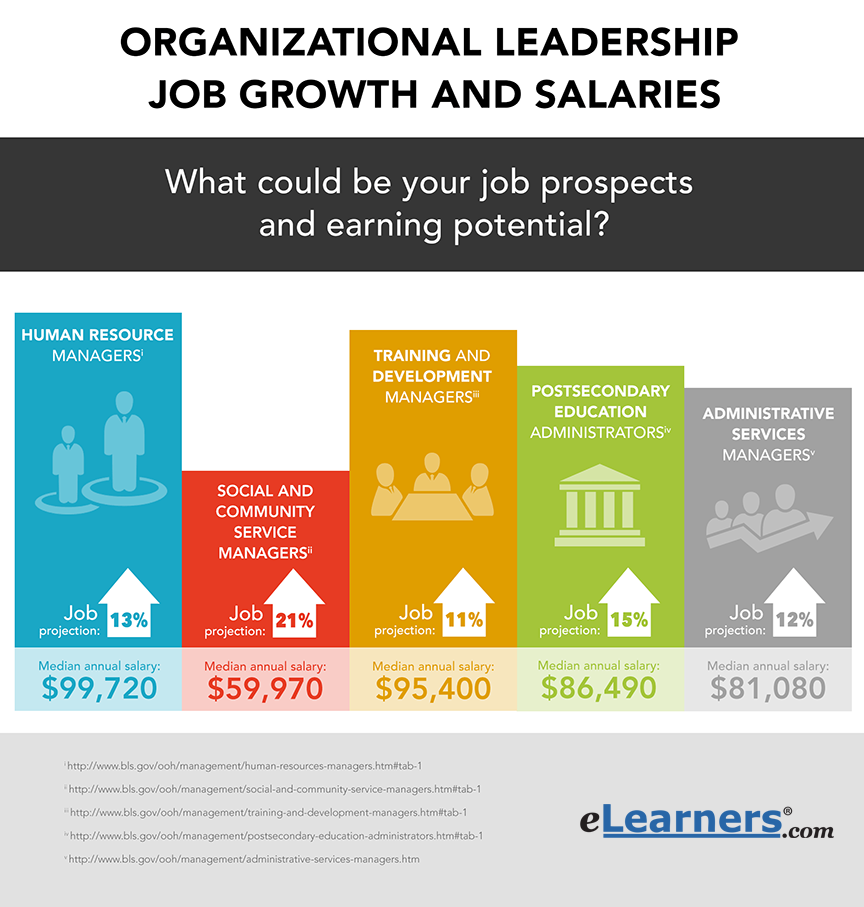 Below are some potential organizational leadership careers along with salary and job outlooks that could assist you. The salary figures are based on national figures; accordingly, salaries may vary based on location.
Human Resource Managers[i]
Human resource managers oversee the administrative aspects of an organization. They handle staffing issues, are in charge of employee services, and advise other managers of organizational policies.
Median annual salary:$99,720
Job projection: 13%
Social and Community Service Managers[ii]
Social and community service managers may work for government agencies, for-profit social service companies, or non-profit organizations. They direct social service and community programs.
Median annual salary:$59,970
Job projection: 21%
Training and Development Managers[iii]
Training and development managers direct and coordinate programs that enhance the skill sets of an organization's employees. They are also in charge of a team of development and training specialists.
Median annual salary:$95,400
Job projection: 11%
Postsecondary Education Administrators[iv]
Postsecondary education administrators work in colleges, universities, community colleges, or trade schools and oversee student services, academics, and faculty research.
Median annual salary $86,490
Job projection: 15%
Administrative Services Managers[v]
Administrative services managers coordinate supportive services of organizations. They set goals and deadlines for the department, plan budgets for contracts, equipment, and supplies, and supervise administrative employees.
Median annual salary:$81,080
Job projection: 12%
Top Executives[vi]
Top executives come up with strategies to make sure that organizations meet their goals. Additionally, they oversee the operational activities of companies and organizations.
Median annual salary:$101,650
Job projection: 11%
Sales Managers[vii]
Sales managers direct organizations' sales teams, resolve customer complaints, develop plans to acquire new customers or clients, assign sales territories, and set sales quotas.
Median annual salary:$105,260
Job projection: 8%
Medical and Health Services Managers[viii]
Medical and health services managers may manage an entire medical facility or a medical practice for a group of physicians. They create work schedules, supervise assistant administrators, and work to improve quality in delivering healthcare services.
Median annual salary:$88,580
Job projection: 23%
---
[i] bls.gov/ooh/management/human-resources-managers.htm#tab-1 [ii] bls.gov/ooh/management/social-and-community-service-managers.htm#tab-1 [iii] bls.gov/ooh/management/training-and-development-managers.htm#tab-1 [iv] bls.gov/ooh/management/postsecondary-education-administrators.htm#tab-1 [v] bls.gov/ooh/management/administrative-services-managers.htm [vi] bls.gov/ooh/management/top-executives.htm#tab-1  [vii]bls.gov/ooh/management/sales-managers.htm#tab-1 [viii]bls.gov/ooh/management/medical-and-health-services-managers.htm