Organizational Leadership and Innovation Trends
"Innovation" is a buzzword that's thrown around casually in the business world today, and like any buzzword, overuse threatens to dilute its meaning and significance. However, in these hyper-competitive times, companies who refuse to innovate – or rather improve, evolve and change – are often the ones who meet a quick demise. "Innovation," as many a failed company can attest, is certainly a word that shouldn't be ignored.

With two decades in sales, marketing, customer service and human resources under her belt, organizational leadership expert, author and CEO of Lets Grow Leaders (letsgrowleaders.com) Karin Hurt recognizes the importance of disruptive and innovative thinking in business today. In fact, innovation is central to the curriculum she teaches in her organizational leadership and human capital MBA course at the University of Maryland. 
When Hurt isn't working as an adjunct professor, she spends her time writing extensively about the topics of business leadership and career development. ReadytoManage.com ranked her blog eighth among the Top 50 Leadership Blogs of 2014, while Trust Across America named her one of the Top 100 Thought Leaders in Trusted Business Behavior today. Hurt also authored the book Overcoming an Imperfect Boss: A Practical Guide to Building a Better Relationship With Your Boss and has been featured in publications like Forbes magazine, Fast Company, and Entrepreneur. 
Hurt frequently brings her expertise to conferences and speaking events, and has been featured at the International Customer Service Association Conference, National Speakers Association Business Accelerator Lab, and Macro-Recruitment Australia Leadership Summit. Additionally, she holds a Practitioner of Human Resources (PHR) certificate, a Master's degree from Towson University, and a Bachelor's degree from Wake Forest University. 
Learn why Hurt thinks every company should encourage innovation and risk-taking and how students can stand out in today's increasingly competitive environment. 
eLearners: Tell us more about your career path.  How did your previous roles lead you to a position in consulting?
KH: The first decade of my career at Verizon was spent progressing through various HR roles, including leadership and organizational development. Then I went out to the field in various field assignments including Director of call centers in the Enterprise (large business space), leading the store channel for Verizon Wireless Stores in Maryland, Washington DC, and Virginia, and building our strategic partnership channel (outsourced call centers). In each of these roles I invested deeply in creating transformational change by developing strong leaders at every level of the organization. 
In my role as Executive Director of the strategic partnership channel I got to work closely with seven different companies to transform their cultures which helped me realize how transferrable this approach was outside of Verizon.
eLearners: How do you, as a organizational leadership expert, define "innovation" in the business world?  Who are some of the biggest innovators in business today, and what makes them stand out from the crowd?
KH: Innovation changes the game through ground-breaking solutions to existing problems or creating an entirely new approach or market.
There are a few companies making big innovations in business today. For example, Samsung is changing the game across a broad spectrum of technology from phones to smart appliances that all interact. Square has changed the small business game by enabling anyone to take credit card payments from their phone. Also, Google continues to create interfaces that change the way we live and work in the world.
eLearners: Describe some of the most groundbreaking trends in business right now.  Which ones have made the biggest impact?   
KH: Machine to machine connectivity, 3D printing, smartphone applications that integrate our lives, and drones are making a huge impact. The biggest trends are about connectivity and integration, driving down production and market-entry costs, as well as inspiring cross-sector collaboration and strategic partnerships.
eLearners: Describe the curriculum for the MBA class you teach. What are some challenges you've faced while teaching about innovation?  
KH: I teach about innovation in the context of my leadership and human capital courses. I use a great TED talk by Phillip Evans which talks about how data is transforming business strategy. We also talk about the organizational leadership influences that encourage or stifle innovation. People will innovate best when they feel safe to take risks, share information, and are given space for creativity.
eLearners: What are your top tips for students entering an increasingly competitive business world?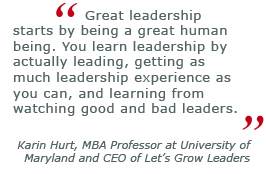 KH: Develop a differentiated and highly visible brand. Know what makes you unique and cultivate that. A few years ago, I realized I had a problem when I Googled my name and all that came up were marathon and 5k race times. Google your name and see what surfaces. Yes, you need a strong brand and reputation within your own company but don't stop there. Work hard on building your external network and image. Have a great LinkedIn profile. Interact in some online communities. There is so much to be learned by people all over the world.
Also, make cross-functional moves and don't pigeon-hole your career too early.  Additionally, focus on developing strongly-connected relationships up, down and sideways – even if that means surrounding yourself with people who will challenge your thinking. 
eLeaners: Your consulting business focuses on growing leaders. What are the most important qualities a leader can have?
KH: The most important qualities are integrity, authenticity and confident humility. Great leadership starts by being a great human being. You learn leadership by actually leading, getting as much leadership experience as you can, and learning from watching good and bad leaders. Notice how other leaders make you feel. Also, as a student, you can start learning how to be a leader in college by proactively seeking solutions to problems, taking risks by getting out of your comfort zone and challenging yourself, and defining who you really are, including your values. 
eLearners: What can companies and organizations do to encourage more innovative and creative thinking from their employees?
KH: Create environments of deep trust. Encourage risk taking and support employees to learn from their mistakes. Hire for all kinds of diversity and encourage unlikely collaboration across functions and departments. Give people some time to work on creative projects outside their day job.
eLeaners: How can employees implement new ideas if they are stuck in a corporate culture that's resistant to change? 
KH: I have a PERSUADE model I encourage employees to use. If your boss is resistant to change or an idea that you feel very strongly about, try these tactics:
P – Private: Don't confront him in front of your peers or his team.  Take it offline.
E – Emotion: Be passionate, but don't let your emotions get the best of you. Stay calm.
R – Research: Do your homework. Prepare for questions.
S – Share: Share your concerns honestly, and speak your truth.
U – Understand: Listen to your boss's side of the situation carefully.  He has another perspective that you should respect.  Hear him or her out completely.
A – Acknowledge: Appreciate your boss's point of view and try to understand the pressures he or she may be facing. 
D – Data: Use data to back up what you're pitching.  Build graphs, show correlations, draw pictures, and find stories.
E – Engage: Convince others to care about your point of view and support you.  People will start talking about how they back you and your cause, which your boss will eventually hear on his or her own. 
I also am a big believer in creating cultural oases. Even if the overall culture is resistant to change, do what you can to foster innovation and trust in your neck of the woods. Start small with pilots to gain the proof you need. It's hard to for others to argue with your success.
eLearners: Is there anything else you would like to share that you feel would be valuable to students who are considering studying business?
KH: Take some time and really develop your organzational leadership philosophy. I have my MBA students build their leadership credo: values, operating norms… how they want to show up. Writing this down and going back to it after each new assignment will go a long way in developing your authentic leadership.
The expert interviewed for this article may be compensated to provide opinions on products, services, websites and various other topics. Even though the expert may receive compensation for this interview, the views, opinions, and positions expressed by the expert are his or hers alone, are not endorsed by, and do not necessarily reflect the views, opinions, and positions of [eLearners.com] or EducationDynamics, LLC. [eLearners.com] and EducationDynamics, LLC make no representations as to the accuracy, completeness, timeliness, suitability, or validity of any information in this article and will not be liable for any errors, omissions, or delays in or resulting from this information or any losses or damages arising from its display or use.