Sponsored Online Programs Available
Online Masters in Organizational Leadership Degree Programs
Online Masters in Organizational Leadership degree programs are designed to offer working professionals a convenient learning format for developing strategic administrative leadership skills. As an academic discipline, organizational leadership focuses on strengthening abilities that might be applied to a business, government, non-profit, or educational setting[i]. Today's executives are often more than managers. They are negotiators and motivators with the ability to make tough decisions about policies, staff and resources[ii]. Add to that, per the Bureau of Labor Statistics, employers now tend to seek candidates with a masters degree[iii]. If you are ready to potentially compete for upper-level management roles, earning a masters in organizational leadership may warrant consideration!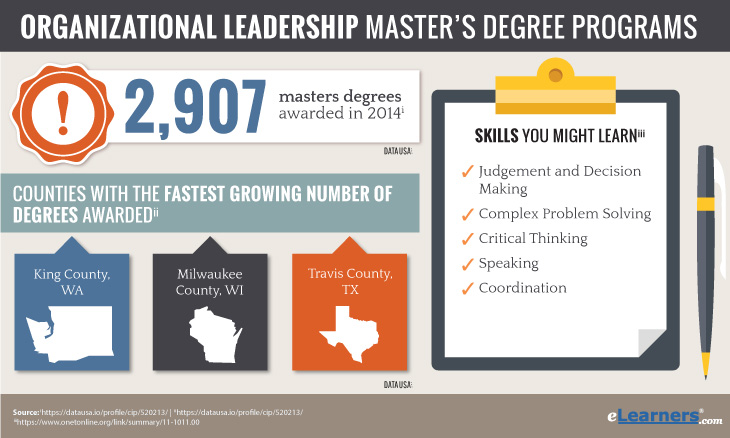 Why Pursue an Online Masters in Organizational Leadership Degree?
Online Masters in Organizational Leadership degree programs typically explore the ways that individuals and groups are motivated in their occupational setting. The goal is largely so that managers may derive the best results from their staff, and ultimately, achieve the larger organizational goals. Often interdisciplinary in scope, a masters in organizational development or leadership might prepare students with theories of human behavior and tools for how to apply management research to real-world situations. If you are mid-career and want more in depth understanding of some of the more complex issues of group dynamics, or are interested in managing effectively given these intricacies, an online masters degree in leadership may provide that insight and preparation.
FAST FACT

Per the NCES, in 2014, 2,907 Masters Degrees in Organizational Leadership were awarded; that amounts to a 51.3% share of the total.[iv]
Online Masters in Organizational Leadership Degree Programs: Basics
Online Masters in Organizational Leadership degree programs typically require prospective candidates to have earned a Bachelors degree from an accredited college. A few possible undergraduate degrees might include the Bachelor of Business Administration or Bachelors in Organizational Leadership. Some of the programs may be completed in 2-years. This could equal roughly 33-36 credit hours if you take a full-time course load, though these details might vary. Some online business schools may offer a part-time format so students may take longer to graduate, but have a lighter course load. Other online masters organizational leadership programs may be accelerated, with a shorter time to graduation. Either way, the formatting is usually designed for individuals who are interested in studying while maintaining employment.
Online Masters in Organizational Leadership Degree Programs: Potential Features
Each university may have its own unique features in developing its online masters in organizational leadership degree programs. Some universities may offer a mirror of their residential programs, while others may not have the same courses or faculty. This might be true about the extent to which a program is online. You might find one school that has a 100% online masters in leadership while another may require a brief conference or residency where classmates can interact and participate in group dynamics.
Online Masters in Organizational Leadership Degree Programs: Potential Coursework
One of the things that might distinguish one online masters organizational leadership program from another is its curriculum. You should be reading through course descriptions to see whether these match the learning outcomes you have set for yourself. To give you a general feel, some of the topics you could learn might include subjects such as[v]:
Organizational planning
Dynamics of leadership
Finance
Team building, leading teams, coaching
Conflict resolution and mediation
Communication
Management skills (e.g. strategic decision making, vision, project management)
In addition to coursework, students may be required to work on group projects, and/or write a thesis paper under supervision of a faculty member. You may also be encouraged to explore leadership in personal, interpersonal and organizational levels.
Online Masters in Organizational Leadership Degree Programs: Potential Concentrations
Some online masters organizational leadership degree programs offer you the opportunity to take extra courses in what is called a 'track' or 'concentration' area. As with actual courses, these vary, so take the following as a generalization and read through the descriptions of specific programs:
Business Continuity
Risk Management
Human Resource Leadership
Healthcare Management
Nonprofit Leadership
Organizational Development
Online Masters in Organizational Leadership Degree Programs: Cultivate Skills
Whether your studies help you to enhance current skills or foster the development of new abilities, certain proficiencies are considered critical for those working in organizational leadership, and may be used in any number of possible work environments. Some of these are:[vi]
Speaking
Writing
Reading Comprehension
Judgement & Decision Making
Instructing
Systems Analysis
Systems Evaluation
Social Perceptiveness
Complex Problem-solving
Types of Online Masters in Organizational Leadership Degree Programs
Aside from different courses, there are different types of online masters in organizational leadership degree programs. These are primarily the Master of Arts (MA) in Organizational Leadership, Master of Science (MS) in Organizational Leadership & the Master of Business Administration (MBA) in Organizational Leadership.
Online MA Organizational Leadership
Online Master of Arts in organizational leadership degree programs may offer an interdisciplinary lens by combining courses from the social sciences, communications, art, humanities and business.
Online MS Organizational Leadership
While still emphasizing some of the same topics, a Master of Science in organizational leadership may include more qualitative approaches. While the M.A. may lean towards fostering creative thinking and an understanding of organizational communications, the M.S. may focus on using technology and data to improve performance outcomes. There might also be more attention to strategic analysis and implementation of strategy to real-time issues.
Online MBA Leadership
Online Masters of Business Administration with a concentration in organizational leadership may offer a broad-based business education. Typically, an MBA program offers core courses in business principles, finance, accounting, economics marketing and management. Students may develop not only an understanding of the global business environment but also, learn how to apply their research into a present or potential future organizational setting.
After Graduation: Common Careers and Continued Education
Students who have earned their masters degree in organizational leadership may go on to pursue a variety of potential careers or may be interested in continuing their education.
Continued Education: Some of the possibilities might include a PhD in Organizational Leadership or Doctor of Management.
Common Careers: Per Data USA, the most common industries that employ organizational leadership majors are[vii]:
Insurance Carriers & Related Activities
Banking & Related Activities
Elementary & Secondary Schools
Accounting, Tax Preparation, Bookkeeping & Payroll Services
Securities, Commodities, Funds, Trusts & Other Financial Investments
Find an Accredited Online Masters in Organizational Leadership Program
As a business person, you know the value of researching a decision. One of the factors to look for in an online Masters in organizational leadership program is accreditation. At the institutional level, look for schools that have been accredited by the U.S. Department of Education (nationally). There are also 6 regional agencies that bear national recognition. At the programmatic level, business degree programs may bear specific accreditation from professional outside agencies such as the AACSB International―the Association to Advance Collegiate Schools of Business or IACBE – International Assembly for Collegiate Business Education. To determine whether your school and/or program has kept its accredited standard current, check on the accreditation websites.
Take the Next Step
One of the potential advantages to earning your masters in organizational leadership online is that it might develop leaderships skills in real time that you could apply towards a current career where making decisions informed by theory may be an asset. Start to review our many sponsored listings to land on the M.S., M.A. or online M.B.A. Leadership that aligns with your ambitions. Do your due diligence by contacting prospective schools through an easy-to-use 'request info' setting to stay on top of admissions procedures and deadlines for enrollment. Another option to consider, once you've earned your Masters, is pursuing a PhD in Organizational Leadership.
---
[i] https://nces.ed.gov/ipeds/cipcode/cipdetail.aspx?y=55&cipid=89318 |[ii] bls.gov/ooh/management/top-executives.htm |[iii]bls.gov/ooh/management/financial-managers.htm |[iv] https://datausa.io/profile/cip/520213/ |[v] nces.ed.gov/ipeds/cipcode/cipdetail.aspx?y=55&cipid=89318 |[vi] https://datausa.io/profile/cip/520213/ |[vii] https://datausa.io/profile/cip/520213/