Effective Leadership Theories
Dan Gaken wears many different hats in the leadership realm. He is currently the Director of the Leadership Institute at Central Michigan University, where he also serves as a Leadership Studies instructor and advisor for Habitat for Humanity. Gaken is also the Michigan Association of Secondary School Principal's Level III leadership curriculum director. In his role at the LeaderShape Institute – which helps young adults around the globe learn to lead with integrity – he is responsible for facilitating campus-based sessions with students.

Gaken received his B.S. in History at Central Michigan University in 2004 and is currently completing his Master's degree.  In 2006, he was awarded the NASPA Leadership Knowledge Community Best Practices Award for Student leadership Programs. More recently, he was named one of Central Michigan University's ten most inspirational alumni of the past ten years.
Gaken regularly presents at the International  Association (ILA), the National Association of Student Personnel Administrators (NASPA), and the American College Personnel Association (ACPA).  He was also a keynote speaker at the 2014 Michigan Chamber of Commerce Young Professionals Statewide Leadership Conference.  Gaken co-authored his first book, Leadership & Service: An Introduction with Senator George McGovern and Dr. Donald Simmons in 2008.
eLearners: What made you decide to pursue a career in organizational leadership?
DG: My career path was chosen almost by accident. I attended a Midwest university well-known for their education program, and as a component of the curriculum I was placed in a classroom – that's a tough way to learn that you're afraid of kids! I had a bit of anxiety when I called home to tell my parents (who were both educators) that I didn't think I wanted to be a teacher. They were supportive and told me to take some coursework that I was interested in and that I would find my path. I immersed myself in leadership experiences, both curricular and co-curricular. I found that it can be truly rewarding to help others strive to be their best.  
The more I learned, the more I came to believe one fundamental truth: leadership matters and leadership is important.  We are, right now, living in an era that is defined by a crisis of ethics.  The work that we do to create the next generation of ethical leaders should be of the utmost importance to us all. 
eLearners: What are the organizational leadership theories that have guided your career and how did you implement them?
DG: There are many useful leadership theories that describe or prescribe effective leadership. I advocate that students familiarize themselves with as many models and theories as possible. One of my core beliefs about leadership is that one must define for themselves what it is and be able to articulate that position.    
However, in my work I have chosen to use the Situational Leadership Model II. SLMII, originally developed by Dr. Paul Hersey and Dr. Ken Blanchard, suggests that successful leadership is less about a set of innate traits, but rather a leader's ability to adapt her leadership style to appropriately suit both the context and followers. The inherent benefit of this belief is that anyone can lead. 
eLearners: Who are some theorists (past and present) that you would recommend to students who are interested in pursuing a degree in organizational leadership?
DG: In addition to the Hersey and Blanchard Situational Leadership Model, I think today's student would be well served to read the work of Graen, who was a primary proponent of the Leader-Member Exchange Theory (LMX). LMX, while characterized by its use of in-groups and out-groups, also provides a tool kit to leaders who are attempting to be more inclusive and create a larger in-group within their organizations. 
eLearners: How do the Leadership Institute and LeaderShape Inc. help students understand and apply leadership theories?
DG: The Central Michigan University Leadership Institute and LeaderShape Inc. have similar missions. We are working to develop the next generation of ethical leaders who will help improve the quality of life for all those who belong to our communities. This is done through a simple but powerful model that equips young adults to believe that they can lead (indeed, that they have a responsibility to) and to do so while maintaining a high level of integrity. 
eLearners: What would you say are the most important traits of an effective leader? What are some common roadblocks or barriers to good leadership?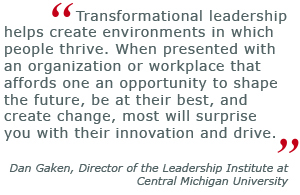 DG: Successful leaders believe in their organization and understand that its greatest asset is its membership and their capacity. Successful leaders seek to create other leaders, understanding that through the creation of leadership they make their influence increase exponentially.
Conversely, ineffective leaders are consumed by a concern about being recognized for their work and a fear of being eclipsed by others. As a leader, you should always strive to surround yourself with the best team you can assemble. 
eLearners: How is technological innovation affecting the field of organizational leadership and/or the way you teach your students?
DG: Leadership must have a context, and therefore, so must teaching organizational leadership education.  Increasingly, we are being asked to lead using technology and work in virtual teams. Employing these same forms of media when teaching others organizational leadership help ensure that students are prepared to lead teams that operate in a rapidly changing technological environment. 
eLearners: In your opinion, is transactional leadership or transformational leadership more effective and why?
DG: In my opinion, leadership is always situational. There may be organizations whose goals or membership dictate a transactional leadership approach. However, I certainly prefer a transformational leadership environment. Transformational leadership helps create environments in which people thrive. When presented with an organization or workplace that affords one an opportunity to shape the future, be at their best, and create change, most will surprise you with their innovation and drive. 
eLearners: What are some alternative tracks or concentrations within organizational leadership that you think students should seriously consider as they plan their careers?
DG: Students preparing to study organizational leadership should ask themselves a fundamental question: Am I interested in taking on the responsibility of a leadership position?  Once that has been established a student's personal interests, passions, and unique talents should dictate their direction and path of study.
Within organizational leadership, students can work to become leaders in traditional business organizations, the not-for profit sector, education, or governmental operations. All of these interests can be explored by pursing a degree with a focus in one of these areas, or may be augmented with a minor in a related area.
eLearners: Is there anything else you would like to share that you feel would be valuable to someone who is considering studying Organizational Leadership?
DG: Pursuing a degree in organizational leadership can be tremendously rewarding. Organizational leadership is universally applicable; it's necessary in politics, education, business, human resources and in both the public and private sectors. It can afford you the opportunity  to affect change and  work in a field that you love. As I learned, it can be very rewarding to help others succeed!
The expert interviewed for this article may be compensated to provide opinions on products, services, websites and various other topics. Even though the expert may receive compensation for this interview, the views, opinions, and positions expressed by the expert are his or hers alone, are not endorsed by, and do not necessarily reflect the views, opinions, and positions of [eLearners.com] or EducationDynamics, LLC. [eLearners.com] and EducationDynamics, LLC make no representations as to the accuracy, completeness, timeliness, suitability, or validity of any information in this article and will not be liable for any errors, omissions, or delays in or resulting from this information or any losses or damages arising from its display or use.