"What is criminal justice?" is a question that can not simply be answered in one response. There are several elements that make up the criminal justice definition. In the United States, criminal justice is the collective goal contributed to by a group of government agencies to ensure that criminal activity is prevented, and when committed, justly punished. Many agencies at the state and federal level comprise the collective force of criminal justice, and most fall within one of the major five types of criminal justice: law enforcement, courts/judiciary, corrections, security, and forensic science.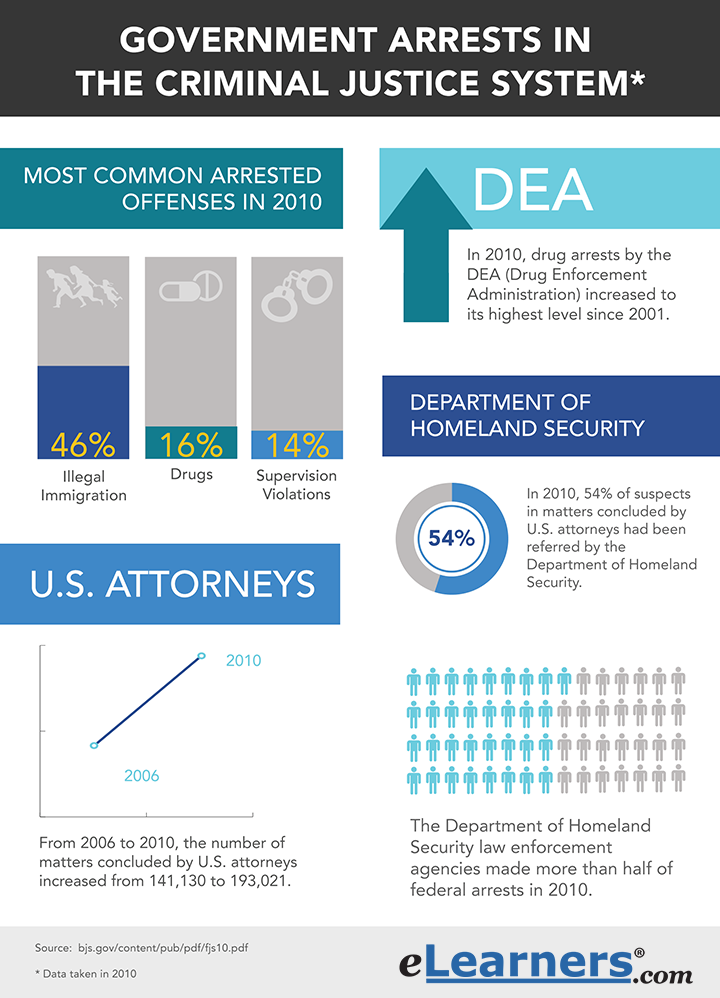 Law Enforcement: This includes local, county, and state police officers who patrol to prevent crimes and make arrests when crimes have been committed. Detectives who investigate unnamed criminal acts also operate under the umbrella of law enforcement.
Courts/Judiciary: Lawyers operating in the court system argue cases against those people accused of criminal acts, and judges determine sentencing if the accused is found guilty. The judiciary system is in place to ensure that people receive a fair trial and that potential laws can be considered by an unbiased and just group of people.
Corrections: Corrections officers are in charge of monitoring criminals once they've been convicted of a crime in order to prevent new criminal acts. In addition to corrections officers, this branch of criminal justice includes parole and probations officers, and counselors.
Security: Those in the security component of criminal justice are trained to use gathered knowledge—or 'intelligence'—to prevent and evaluate threats on a local, national, and international level. For example, the Department of Homeland Security works to manage and prevent outside threats to the nation and its people.
Forensic Science: Forensic scientists examine and analyze evidence associated with a crime to determine key scientific deductions that may assist in both finding and convicting the person(s) who committed the crime. Professions in this component of criminal justice usually have strong biology and chemistry backgrounds.  
All these areas and careers complete the criminal justice definition. Some students earn their degree to help provide justice to those who have had criminal acts committed against them, while other students want to focus their criminal justice careers on the preventative measures that protect citizens going forward. No matter which aspect of criminal justice you are interested in, earning your online criminal justice degree may be the start to a career in one of various professions that contribute to the greater good of society.  
The Criminal Justice Definition... More than it may seem
eLearners interviewed Dr. Sheryl Van Horne, the assistant professor and director of criminal justice at Arcadia University, asking her "What is criminal justice?" and to find out about her experience with criminal justice education. Here is what Dr. Van Horne had to say about her criminal justice experience and the future of the criminal justice field.
"I worked in the Planning department [of the Jersey City, NJ, Police Department] and learned a great deal from behind the scenes, entering data, aiding in applying for research grants for the city, and working on reports and data analysis for Compstat [comparative statistics] meetings and for senior law enforcement officers.  Particularly interesting was one address that had on average one call for service each day of the previous year. While it would seem that that address had very high rates of crime, it turns out that one older woman made numerous noise and nuisance complaints against her neighbors. It's important to look at the qualitative aspects of the data and not just the numbers."
Read Dr. Van Horne's full interview
Different Criminal Justice Statistics
All government employees in the justice system in 2010: 2,468,795[i]
All government police protection employees in the justice system in 2010: 1,163,354[i]
All government judicial employees in the justice system in 2010: 519,791[i]
All government corrections employees in the justice system in 2010: 785,650[i]
Total state and local police protection full-time employees in 2010: 910,464[i]
Illegal immigration (46%) was the most common arrest offense in 2010, followed by drug (16%) and supervision violations (14%).[ii]
In 2010, the number of drug arrests by the Drug Enforcement Administration increased to its highest level since 2001.[ii]
Between 2006 and 2010, the number of matters concluded by U.S. attorneys increased from 141,130 to 193,021—an annual average percent increase of 9%.[ii]
In 2010, 54% of suspects in matters concluded by U.S. attorneys had been referred by the Department of Homeland Security.[ii]
The Department of Homeland Security law enforcement agencies made more than half of federal arrests in 2010.[ii]
---
[i]bjs.gov/index.cfm?ty=pbdetail&iid=4679 | [ii] bjs.gov/content/pub/pdf/fjs10.pdf