If you're considering an advanced degree, you may be wondering what masters degree salary potential you can expect after earning your credentials. In many fields, a masters degree is a recommended or required step towards possible career advancement and higher salary attainment. Is a masters degree worth it for you? Check out the information below to learn more about expected employment opportunities and the potential salary with a masters degree compared with a bachelor degree.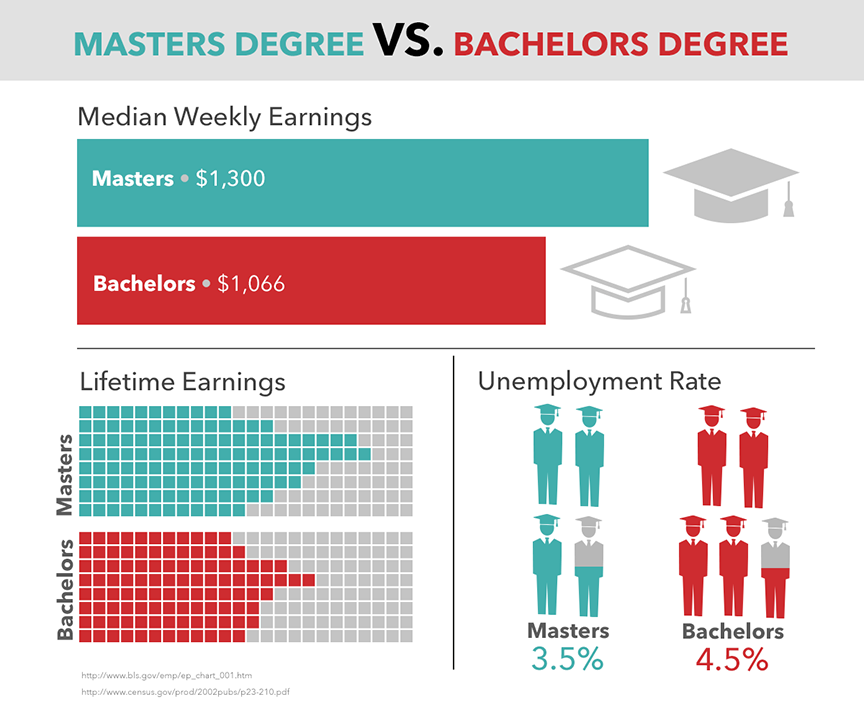 Salaries For Masters Degree Holders VS Bachelor Degree Holders
Wondering how the average salary with a masters degree measures up to the earnings of a typical bachelor degree holder? According to the Bureau of Labor Statistics, the median weekly earnings for a masters degree holder in 2012 was $1,300 compared to $1,066 for those with a bachelor degree.I In addition, a masters degree salary over the course of a lifetime may yield $400,000 more than the lifetime earnings of a bachelor degree holder.II Depending on your field, the difference in earnings may be even greater.
Employment Opportunities For Masters VS Bachelors Degree Holders
If you're considering a masters degree in order to help further your employment potential, you may be on the right track. In fields such as education, healthcare, and the social sciences, candidates with advanced degrees are often in demand. In fact, the 2012 unemployment rate for masters degree holders was only 3.5% compared to 4.5% for Bachelor's degree holders, indicating that masters degree employment opportunities may be available for qualified candidates.III
Salaries And Job Outlook For Masters Degree Holders
Is a masters degree worth it? While typically entry-level employment opportunities may be obtained with an undergraduate degree, a masters degree may help you to achieve career growth and increase your earning potential. Particularly for rapidly changing or fast-growing career tracks, earning your masters degree could be an advantageous next step. Let's take a look at some of the masters degree employmeny opportunities below.
Postsecondary Teacher
If you're interested in teaching courses at a college, university, or career/vocational school, you'll typically need a minimum of a masters degree. Postsecondary teachers plan and instruct courses to help students achieve their academic and professional goals.
Median Salary: $68,970IV
Job Projection: 19% (faster than average)IV
Related Program: M.Ed. in Higher Education - Abilene Christian University
Political Scientist
Political scientists research, analyze, and seek solutions for issues in government and public administration. If you are fascinated by the study of political systems and plan to earn your masters degree in a related field, this career track may be for you.
Median Salary: $102,000V
Job Projection: 21% (faster than average)V
Related Program: MA in Diplomacy - Norwich University
Nursing Home Administrator
Nursing home administrators are typically responsible for managing staff, finances, patient care, and much more at nursing home facilities. Earning a masters in healthcare administration and management may prepare you for this rewarding career choice.
Median Salary: $88,580VI
Job Projection: 23% (faster than average)VI
Related Program: MBA in Healthcare Administration - Northcentral University
Training and Development Manager
Training and development managers plan and oversee employee learning, training, and professional development initiatives for an organization. Many employers prefer candidates with a masters degree in human resources or a related field.
Median Salary: $95,400VI
Job Projection: 11% (faster than average)VI
Related Program: M.Ed. in Corporate Training & Knowledge Management - Jones International University
Healthcare Social Worker
If you are committed to helping others overcome physical and emotional health issues, access healthcare resources, and obtain needed care, a career as a healthcare social worker may be the right path for you. Healthcare social workers frequently need a masters degree in a related field, such as human services.
Median Salary: $44,200VII
Job Projection: 19% (faster than average)VII
Related Program: M.S. in Clinical Mental Health Counseling - Lubbock Christian University
---
[I]bls.gov/emp/ep_chart_001.htm [II]census.gov/prod/2002pubs/p23-210.pdf [III]bls.gov/emp/ep_chart_001.htm [IV]bls.gov/ooh/Education-Training-and-Library/Postsecondary-teachers.htm#tab-1 [V]bls.gov/ooh/life-physical-and-social-science/political-scientists.htm [VI]bls.gov/ooh/Management/Medical-and-health-services-managers.htm#tab-1 [VII]bls.gov/ooh/management/training-and-development-managers.htm#tab-1 [VIII]bls.gov/ooh/Community-and-Social-Service/Social-workers.htm#tab-1