When learning how to become an editor, it's important to understand that rarely is there one specific way to achieve your goal. Luckily, here you'll find some of the different paths to becoming an editor, what degrees are most common, and how much an editor makes.
Plus, you'll also find 10 schools that offer undergraduate and graduate degrees that may help you become an editor.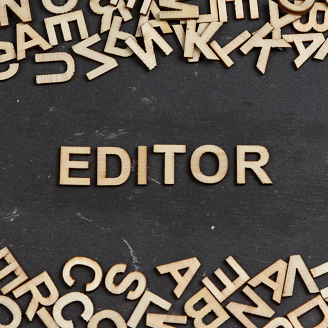 How to Become an Editor
Without one specific path, becoming an editor isn't like many careers. Often, pursuing a career as an editor starts by writing or editing for your school paper in college or gaining some other hands-on experience.
Through this experience, you can build a portfolio that shows different articles and projects you've worked on. Often, you'll also find a field you're passionate about, such as literature for becoming a book editor or fashion if you want to be a fashion editor.
The common steps to become an editor are:
5 Steps to Become an Editor

Step #1: Gain Editing Experience

 

Your first experience can be at a school paper, a local newspaper, as a reader at a literary agent's office, or editing a literary journal.

Step #2: Earn a Bachelor's Degree

Most editing jobs require a bachelor's degree in English, communications, or journalism.

Step #3: Gain Work Experience

Entry-level positions usually have high competition, so you may become a freelance editor to start.

Step #4: Gain Additional Skills

 

For instance, many editors use a number of editing, graphic design, and other computer programs.

Step #5: Join Professional Organizations

Some of the most common include:
While this is the most common path, it isn't the only one. So, if you currently don't have any editing experience, don't worry! You can always get it after earning your bachelor's degree or while you gain additional skills.
What Degree Does an Editor Need?
According the United States Bureau of Labor Statistics (BLS), a bachelor's degree in communications, journalism, or English, combined with previous writing and proofreading experience are typically the requirements to become an editor.i
Education Level

According to O*NET, an online career database, 80% of editors have a bachelor's degree, 17% have a master's degree, and 1% have a post-baccalaureate certificate.ii
Schools and Degrees That Help You Become an Editor
Some of the degrees that may prepare you to become an editor are:
Below is a list of ten schools that offer some or all of these programs. When you find the school you're interested in, click on the sponsored listings to learn more about the program, how to apply, and connect directly with the school!
At Ashford University, you'll have access to faculty, classmates, librarians, writing assistants, and career service specialists who can help you achieve your goal of earning a degree. Plus, with a 13:1 student to faculty ratio, you'll receive the personal attention and support you're looking for.
Ashford offers a variety programs that may help you become an editor, including three undergraduate degrees that include:
While each of these have a different focus, they teach similar principles such as:
The concepts of accuracy and timeliness
How to communicate fluently
The basics of writing creatively, clearly, and concisely
As one of the top private Christians colleges and universities in Southern California, California Baptist University has the goal of helping students find and achieve their purpose. CPU challenges students to become individuals whose skills, integrity, and sense of purpose glorify God and distinguishes them in the world.
Among many programs, California Baptist offers a Bachelor of Arts (BA) in English that teaches a diversified curriculum that includes courses in:
Film studies
Creative writing
Linguistics
Multicultural literature
The Master of Arts (MA) in Communications builds upon your foundation of knowledge to equip you with critical thinking and professional practice skills by teaching contemporary communication theories and concepts.
Regent University strives to be one of the nation's leading academic centers for Christian thought and action. Founded in 1977, Regent now has an alumni network of more than 70,000 and has a student body that represents more than 70 countries.
Regent offers a variety of programs at both the graduate and undergraduate level that focus on teaching the fundamentals skills in writing for different contexts and a curriculum that offers courses in professional, technical, and creative writing.
Some of these programs are:
Grand Canyon University is uniquely positioned to make a difference in the lives of others through higher education degrees in fast-emerging fields. Plus, as the premier Christian university in Arizona, GCU remains committed to academic excellence.
Offered by the College of Humanities and Social Sciences, the Master of Arts (MA) in English with an Emphasis in Education provides an excellent opportunity for those who have a passion for writing and literature.
As America's first research university, for over 140 years Johns Hopkins University hasn't strayed from the vision that teaching and research go hand in hand.
This, along with distinguished professors that mentor students, is one of the many reasons why JHU has been the nation's leader in federal research and development funding every year since 1979.
Three of the graduate programs at JHU that teach aspects of how to become an editor are:
While each has a different focus, they all teach:
How to improve your writing
How to conduct efficient research
The development of usable communication skills
The academic values at Colorado State University are:
Curiosity
Passion
Rigor
Innovation
This foundation helps three out of four graduates to be employed in a field related to their major and 84% of graduates to secure employment or continuing education within 6 months of graduation.
Through a liberal arts curriculum, the Bachelor of Science (BS) in Communication effective communication skills and the variety of techniques you need to communicate through a variety of mediums in today's global society.
Founded in 1869, Chatham University offers over 60 undergraduate and graduate programs in a variety of fields, such as sustainability, health and wellness, and business. Its goal is to prepare students to build lives of purpose, value, and fulfilling work.
Three of the master's degrees at Chatham that teach some of the principles of being and editor are:
These programs expose students to a variety of organizational, executive, and technical writing challenges that reflect the realities of today's shifting business world.
Full Sail University offers a creative approach to a variety of associate's, bachelor's, and master's degree programs designed for the world of entertainment, media, arts, and technology. These immersive, fast-paced, and relevant programs mirror the workflow and collaboration found throughout today's rapidly evolving industries.
Two master's degrees at Full Sail are:
Master of Arts in New Media Journalism: teaches students how to apply traditional journalistic methods to interactive media with a focus on current technologies.
Master of Fine Arts (MFA) in Creative Writing: teaches how to take your passion for storytelling to the next level by incorporating visual elements into the writing process.
Founded in 1857, Queens University of Charlotte is a small, private, co-ed, masters-level university focused on combining active and collaborative learning to create dynamic students inside and outside of the classroom.
The Master of Arts (MA) in Communication blends the best of theory and practice to advance the careers of professionals and help you discover new possibilities by deepening your:
Curiosity
Critical thinking
Skills in resolving today's communication problems
Over the years, Purdue University has been full of milestones that have had a significant impact on the state, nation, and world. Now, in 2018, Purdue is the #1 Destination for International Students in STEM Disciplines according to the U.S. Department of Homeland Security.
The Master of Science (MS) in Communication at Purdue teaches how to thoroughly understand both quantitative and qualitative communication methodologies that may prepare you for success.
Designed for working professionals, this degree builds upon your critical thinking skills to provide clear, powerful, and concise communication in today's technology-driven world.
Did You Know?

Maxwell Perkins, perhaps the most famous American book editor, worked with authors F. Scott Fitzgerald, Ernest Hemingway, Thomas Wolfe, Erskine Caldwell, and James Jones.
Types of Editors
There are a variety of editors that have similar, but different responsibilities in making sure that quality content is shown to a specific audience. Some of these are:
Copy Editors
Publication Assistants
Assistant Editors
Executive Editors
Managing Editorsiii
Proofreaders and Copy Markersiv
For instance, assistant editors are usually responsible for a specific subject, such as local news or international news. On the other hand, a publication assistant reads and evaluates manuscripts for book-publishers.iii
One of the best ways to end up with the position you want is to talk with your professors and join some of the professional organizations listed above. These professionals in the field can tell you how they earned their current position and guide you along your path.
What Is a Copy Editor?
A copy editor proofreads text for errors in grammar, punctuation, and spelling. Typically, they also check for readability, style, and agreement with editorial policy.
Depending on the role and the company, they may also carry out research, confirm sources, and suggest revisions, such as changing words and reorganizing sentences and paragraphs.iii
How Much Do Editors Make?
As editors can work in a variety of fields and industries, below is a list of some of the types of editors, and their 2016 median annual salary according to the BLS:
Editors for professional, scientific, and technical services: $63,920
Editors for religious, grantmaking, civic, professional, and similar organizations: $63,420
Editors for newspaper, periodical, book, and directory publishers: $54,510v
Proofreaders and copy markers: $39,640iv
Earn a Degree to Become an Editor Today!
Get started today on taking the first step to become an editor. Click on any of the sponsored listings on this page to learn about each program and how to apply.
Or, complete the form on this page to get matched to the perfect program for you!
---
[i] bls.gov/ooh/media-and-communication/editors.htm#tab-4 [ii] onetonline.org/link/summary/27-3041.00 [iii] bls.gov/ooh/media-and-communication/editors.htm#tab-2 [iv] bls.gov/oes/current/oes439081.htm [v] bls.gov/ooh/media-and-communication/editors.htm#tab-5