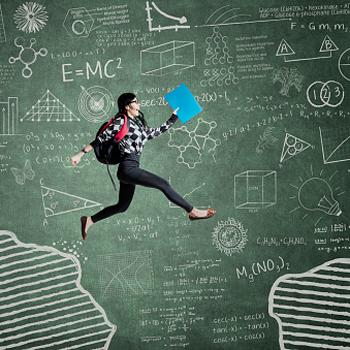 Fear you've pursued the wrong career path? Don't worry. Earning a Master's degree with an unrelated Bachelor's degree may be one way to switch fields in grad school and take your career in a new direction.
For the programs we list, it may not matter that you studied something completely different as an undergrad. What matters is that you're now setting your sights on a new dream.
Master's Degrees That Don't Require Specific Bachelor's Degrees to Earn
We've listed some sponsored schools that offer master's degree programs you may be able to apply to with any bachelor's degree from an accredited school. Of course, each school has additional requirements, such as a minimum GPA, professional experience, or other criteria for admission.
Hint: Want to search programs by subject area? Scroll to the bottom of this article for a list of graduate subjects that may not require a specific bachelor's degree to study.
1. Saint Joseph's University Online
Saint Joseph's University offers a variety of online graduate programs, some of which do not require your bachelor's degree to be in a specific field. SJU Online combines 160 years of higher education excellence with the flexibility of distance learning. Their main campus is located in Philadelphia, Pennsylvania.
Program You Should Know About: The Online Accelerated Teacher Certification (OATCERT) Program. (Earn your Master of Science in Education, as well, by taking two additional courses.) This program is designed for those who want to become teachers but may not have an educational or professional background in teaching.
You could potentially earn your secondary teaching certificate in math, science, English, or social studies.
American University is a research institution based in Washington, D.C. Chartered by Congress in 1893, they have a rich history of serving students and the greater good. AU offers many graduate programs, some of which are master's programs open to those from a variety of educational and professional backgrounds.
Program You Should Know About: Master of Arts in Strategic Communication. This graduate program does not require you to have completed previous academic or professional work in communications. That said, you should have strong speaking and writing abilities in English, among other requirements. Courses include subjects like Communication Theory, Speechwriting, and Political Advertising.
Choose from the traditional program or the Online MA in Strategic Communication Program.
Chatham University was founded in 1869, and has since evolved into a dynamic higher education leader with a focus on sustainability. Chatham is home to multiple master's degree programs, some of which don't require a specific undergraduate major. Their beautiful main campus is in Pittsburgh.
Program You Should Know About: Master of Professional Writing (MPW). This broad-based program is designed to help students prepare for challenges in more than one professional field, like Public Relations, Marketing, or Advertising. Your bachelor's doesn't have to be in any particular field.
And, students may even be able to optimize the program for their unique goals.
Utica College is located in central New York, but it also offers flexible learning options, such as 100% online degrees. They offer several master's programs, open to students from a variety of educational and professional backgrounds.
Program You Should Know About: MS in Data Science – Social Science Analytics. This program focuses on research methods and analytics for data that matters in business, healthcare, education, and government. No matter your educational background, you can apply as long as you meet the other program requirements.
And as a 100% online program, the MS in Data Science is designed to help you pursue new goals while balancing your current life.
The University of Saint Mary was founded in 1923 by the Sisters of Charity, and they continue to offer valued-centered higher education with a liberal arts focus. The main campus is located in Leavenworth, Kansas, but the University of Saint Mary also offers online programs for those seeking a little flexibility.
Program You Should Know About: MBA – Human Resource Management. This program accepts students from a variety of backgrounds and academic disciplines, who are seeking professional changes. You must hold a bachelor's degree from a regionally accredited institution, in addition to other requirements.
The MBA program is also available in other concentrations, including Finance, General Management, Health Care Management, and Marketing and Advertising Management.
Simmons College is located in Boston, where they are known for offering a liberal arts education in a small, close-knit setting. Graduate programs are offered in areas like education, liberal arts, management, communications, and more. Check with each master's program to learn more about requirements regarding bachelor's degrees.
Program You Should Know About: Master of Social Work. While there are no course prerequisites, or required undergrad major, this program does require some work or volunteer experience in the human services field. Several program formats are offered, including an online MSW program, a 16-month accelerated program, a traditional full-time program, and an extended part-time program.
Walden University is a unique institution designed to serve the needs of adult learners. They've been doing so for about 45 years. And, Walden offers a variety of graduate degree programs, including master's programs that may not require a related bachelor's degree. Check out each program of interest to learn more.
Program You Should Know About: M.S. in Clinical Mental Health Counseling. This CACREP-accredited online program is designed for those who wish to pursue licensure as a counselor. Concentrations include Addiction Counseling, Career Counseling, Forensic Counseling, Military Families and Culture, and Trauma and Crisis Counseling.
While students must have a bachelor's degree to apply, no undergraduate major is specified.
Founded in 1927, this Christian, liberal arts university offers master's programs both online and on campus, in Greenville, South Carolina. Bob Jones University emphasizes a biblical world view, and the school is home to a seminary and many opportunities for faith-based learning.
Program You Should Know About: Biblical Studies Master's Program. Designed for anyone who wants to learn more about the Bible and theology, this master's program might be the perfect path if you're interested in honing your knowledge of the Christian faith or pursuing ministerial goals. Since the program is broad and flexible, you could study a variety of subjects, from hermeneutics to church history.
And, you can learn from the comfort of home, since the degree is offered online.
Johns Hopkins University is well-known for many reasons—especially its medical community. But did you know that in addition to traditional programs at its Baltimore, Maryland, campus and beyond, John Hopkins offers flexible graduate and professional programs?
Students may have access to paths such as part-time studies and 100% online programs to help them pursue new professional goals.
Program You Should Know About: Master of Liberal Arts. This flexible, interdisciplinary program accepts applications year-round for Summer, Fall, or Spring starts. You are required to have a bachelor's degree from a regionally accredited school, but your undergraduate major doesn't matter. In fact, this program features course offerings across multiple departments, meaning you could potentially study a variety of subjects that interest you – like literature, philosophy, and science.
And, the MLA is open to students from many professional backgrounds, from education to healthcare.
10. Lasell College
Located in Newton, Massachusetts (eight miles from downtown Boston), Lasell College offers a traditional college experience made innovative by their emphasis on experiential and collaborative learning. But, they're also home to nontraditional graduate programs, offering professionals and adult students the flexibility they're seeking.
Program You Should Know About: Master of Science in Sport Management. This flexible, online program doesn't specify a particular undergraduate major, so it may be perfect for those whose current interests and career goals have deviated from their academic backgrounds.
Choose from concentrations in Sport Leadership, Sport Tourism and Hospitality Management, Parks and Recreation, and Athletic Administration.
Can I Earn a Master's Degree If My Bachelor's Degree Is in Another Field?
That depends on what field you want to pursue. To thrive in some programs, such as a Biology master's program, you may need to have earned a bachelor's degree in the same subject area (or a closely-related one, like Chemistry). And, some Master's programs may require prerequisite courses, so you come to the program prepared with the foundational knowledge you need to move forward.
However, not every master's program is quite so strict. Some programs may welcome students from more than one academic or professional area – particularly if the field is interdisciplinary in nature. For example, a liberal arts master's program may be the perfect fit for students coming from backgrounds like political science, art history, or English, for example.
6 Master's Degree Subject Areas Where Your Bachelor's Doesn't Matter
So, you're switching fields for graduate school but aren't sure what you can study with your current bachelor's. Here are just a few subject areas featuring programs where your undergrad degree may not matter (as long as you have one!).
Simply click a subject area to search programs. (And, don't forget to check each prospective program's specifics, before assuming your undergraduate major isn't a factor in admissions.)
1. Liberal Arts and Humanities
2. Education
3. Business
5. Counseling
6. Design
Find A Potential Master's Degree with an Unrelated Bachelor's
Yes, it can be challenging to envision a new professional path when your bachelor's degree is in something unrelated. But, your previous education doesn't have to be the last word, and pursuing a master's degree with an unrelated bachelor's may be the perfect next step on a path you never envisioned as an undergrad.
Browse our sponsored listings to get started!