Considering enrolling in an MBA degree program? What is the value of a masters degree? You'll be happy to learn that the number of jobs requiring a Master's degree are projected to grow by 18% between 2008-2018.[i] But that's not all! In 2011, the median annual earnings for an advanced degree holder in Business was $84,000 – that's almost 35% more than earnings for Bachelor's degree holders![ii]
Why Choose An MBA?
MBA programs are designed to give you quantitative knowledge, communication skills and leadership capabilities for a successful career in business. Whether you're looking to become the CEO of a major company or you're simply ready to take the next step in your career, earning an MBA degree can help prepare you by providing a solid background in accounting, finance, management, marketing and economics. According to a recent study by Georgetown University, 30% of Business Economics majors and 24% of Accounting majors reported earning a graduate degree after completing their Bachelor's.[iii]
What Are Possible Career Paths for MBA Holders?
Earning an MBA may open up many potential career paths to graduates who have built a solid background in business. Let's take a look at three specific occupations for which an MBA degree may be beneficial:
Marketing Manager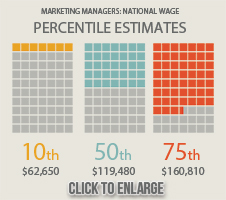 Marketing managers are responsible for directing a company's marketing policies and programs to help maximize profits and satisfy customers.
Marketing managers typically develop pricing strategies, initiate market research studies and plan advertising campaigns.
A background in business, management, economics, accounting and finance can be beneficial to this career. [iv]
The median annual wage for marketing managers was $119,480 in 2012.[v]
Financial Manager
The primary responsibility of a financial manager is to maintain and improve upon the financial health 

of a particular organization.
Financial managers typically direct investment activities, create financial reports and develop short and long-term strategies for companies.
A Bachelor's degree in finance, accounting, economics or business administration is the minimum requirement for this position – but many employers now seek candidates with an MBA.[vi]
The median annual wage for financial managers was $109,740 as of 2012.[vii]
Medical & Health Services Managers
Medical and health services managers are responsible for overseeing health care services in hospitals, clinics, public health agencies or similar organizations.
Employment of medical and health services managers is expected to undergo faster than average growth between 2010 and 2020. [viii]
An MBA or master's degree in health services, public health or public administration are common qualifications for this position.[ix]
As of 2012, the median annual wage for medical managers was $88, 580.[x]
Will An MBA Enhance My Qualifications for Top Executive Positions?
Although education and training will vary depending on the company and the industry, the BLS reports that top executives of large corporations often have an MBA.[xi] It makes sense that positions such as CEO, COO, CFO or President would require a graduate degree given that top executives may be among the highest paid workers in the United States. Understandably, salary levels vary widely but in 2012, the median annual earnings for a Chief Executive was $168,140.[xii]
Did you know the unemployment rate for Master's degree holders in 2012 was only 3.5%, compared with 4.5% for Bachelor's degree holders – and 8.3% for those with only a high school diploma? [xiii]

[i] bls.gov/ooh/About/Projections-Overview.htm#education
[ii] bls.gov/emp/ep_chart_001.htmIn
[iii] georgetown.edu/grad/gppi/hpi/cew/pdfs/whatsitworth-complete.pdf (75)
[iv] bls.gov/ooh/management/advertising-promotions-and-marketing-managers.htm#tab-4
[v] bls.gov/oes/current/oes112021.htm
[vi] bls.gov/ooh/management/financial-managers.htm#tab-4
[vii] bls.gov/oes/current/oes113031.htm
[viii] bls.gov/ooh/Management/Medical-and-health-services-managers.htm#tab-6
[ix] bls.gov/ooh/Management/Medical-and-health-services-managers.htm#tab-4
[x] bls.gov/oes/current/oes119111.htm
[xi] bls.gov/ooh/management/top-executives.htm#tab-4
[xii] onetonline.org/link/summary/11-1011.00#WagesEmployment
[xiii] bls.gov/emp/ep_chart_001.htm