Here, you'll discover the steps you need to take in order to become an economist, different careers in the field, and learn about 9 degree programs that offer a variety of economics degrees.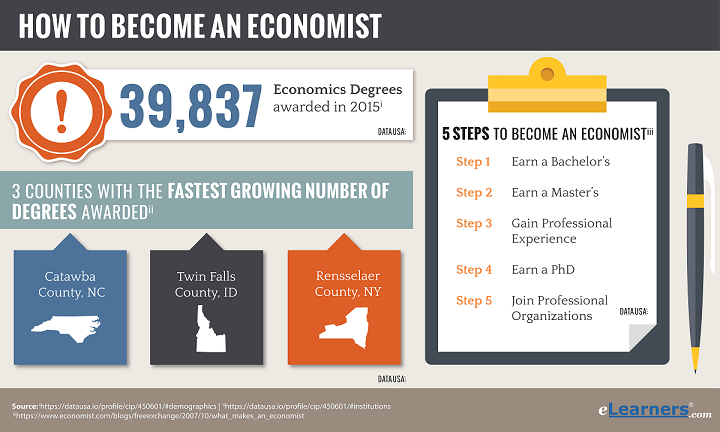 9 Schools with Economics Degrees
Below are nine schools that offer a variety of economics degree programs. These schools and programs are in no particular order and include bachelor's degrees in economics and economics master's degrees.
Click on any of the sponsored listings below to learn about admissions requirements, curriculum, and how to apply!
For more than 140 years, Johns Hopkins University has believed that teaching and research go hand in hand and that sharing knowledge and discoveries makes the world a better place.
The Master of Science (MS) in Applied Economics at JHU strives to teach skills in economic reasoning and constructing and estimating economic models through the use of econometrics.
The Post-Master's Certificate in Quantitative Methods in Applied Economics is a four-course program designed for those who wish to expand or update their knowledge in the field.
The Chicago School of Professional Psychology (TCSPP) has more than 4,300 students at campuses across the country and online. As an innovator in the fields of psychology and behavioral sciences since 1979, TCSPP is a not-for-profit, accredited institution that strives to have a transformational impact on students.
The Master of Arts (MA) in Behavioral Economics is an alternative to the MBA that provides students with a foundation of advanced psychology combined with business applications such as:
Human decision-making
Negotiation
Marketing
Consumer behavior
For more than 50 years, Colorado Technical University has been proud to educate career-focused students to advance their education and help them achieve their goals through innovative, real-world learning.
One of the many business programs at CTU focused on developing the skills needed in the modern business environment is the Master of Business Administration – Data Analytics. This program has a core curriculum designed to advance your analytical skills to support data-driven decision-making.
A co-educational Roman Catholic Institution founded by the Order of Saint Augustine in 1842, Villanova University is a premier institution of higher education that provides a comprehensive education rooted in the liberal arts.
As we're now able to collect large amounts of quantifiable data and transform it into actionable intelligence, the Master of Science (MS) in Analytics uses the latest analytics technology to teach how to leverage this data through a real-world expertise with a curriculum focused on business, statistics, mathematics, and computer science.
What Is an Economist?
An economist is someone who studies the relationship between a society's resources and its production or output. Ranging from the smallest of communities to the entire global economy, this analysis includes combining two features:
Developing conceptual models to predict responses to change in policy and conditions
Use rigorous statistical analysis to investigate these changes
Economists combine an understanding of statistics and mathematics, with a thorough knowledge of business principles to acquire, analyze, interpret, and hypothesize how different variables can affect economies in a variety of industries.
5 Steps to Become an Economist
5 Steps How to Become an Economist

Step #1: Earn a Bachelor's Degree

 

Qualifies you for internships and some entry-level careers, usually in government

Step #2: Earn a Master's Degree

 

Usually offers a variety of concentrations to tailor your curriculum

Step #3: Gain Professional Experience

Many private sector and leadership positions look for candidates with at least a master's

Step #4: Earn a PhD

 

Many in the field believe that only those with a PhD are truly 'economists'

Step #5: Join Professional Organizations

 

Some of these are:
What Degree Does an Economist Need?
While some entry-level jobs, especially those in the government, may only require a bachelor's degree, most economists need a master's degree or a Ph.D.
Usually, students have a strong background in mathematics, statistical analysis software, and combine graduate education with work experience.i
What Degree Do Economists Have?

In 2016, 58% of economists had a doctoral degree, 29% had a master's, and 8% had a bachelor's.ii
How to Become an Economist
When researching how to become an economist, it's important to remember that economists work for companies besides those involved finance or for banks. Top economists have a vast variety of opportunities, if you are thinking 'Hey, how do I become an economist', you might also want to think about what sort of occupation you're most interested in and which path is your best bet. 
In fact, one of the keys of becoming an economist is that there are a variety of opportunities available, especially as data analytics become an even larger part of decision making in the new business environment. As a result, economists work in a variety of fields analyzing a variety of data sets.
What Does an Economist Do?
Economists study data, research trends, and evaluate economic issues through qualitative and quantitative methods within a variety of fields to analyze:
The cost of products, healthcare, or energy
Employment levels
Business cycles
Exchange rates
Taxes, inflation, and interest rates
How the economy will affect their businesses
Consumer demand and sales
Study historical trends
Based on different issues and by applying different scenarios, economists are able to provide a clear picture to managers and key decisionmakers to create forecasts and models.
This information and analysis helps companies maximize their profits and inform policymakers on how various strategies and decisions can impact the economy or company.iii
Where Do Economists Work?
While many students believe that economists only work in finance, banking, business, and government, as data analytics continues to shape our world, economists have enjoyed careers in a variety of fields, which include:
Healthcare and disease prevention
Technology, such as analyzing and applying data
Teaching and research
Education
In addition, an economics major is one of the many paths to law school because of its emphasis on:
Reading and library research
The ability to synthesize large amounts of information
Logical thinking
Economics and the LSAT

According to the American Economic Association, in 2012-2013, economics majors had the highest average LSAT score of any major.
What Does an Economist Study?
While an important factor, economists study more than just the economy from a business sense. Now, more than ever, various economics degrees focus on econometrics, which is the application of statistical and mathematical theories in order to test hypotheses and forecast future trends.
This type of data analysis, and economics as a whole, combines mathematics, data analysis, and statistics to examine:
Forecasting models
Economic theories
Microeconomics and macroeconomics
Impact of policies on economics
Each of these, as well as the latest software and technology in the field, allow economists to help shape a variety of policies and decisions for businesses.
How Much Do Economists Make?
According to the United States Bureau of Labor Statistics (BLS), across all industries, the median annual salary for economists in 2016 was $101,050. However, there are large variations in income for economists based on the industry they are in. For example:
Finance and insurance: $124,660
Federal government, excluding postal service: $111,310
Management, scientific, and technical consulting services: $110,900
Scientific research and development services: $102,000
State government, excluding education and hospitals: $69,170iv
Keep in mind that most economists are required to have a master's degree or a PhD, though some entry-level positions, usually in government, may only require a bachelor's.i
Where Economists Work

According to the BLS, 22% of economists worked for the federal government (excluding postal service) and another 9% worked for the state governments (excluding education and hospitals) in 2016.v
Choose a Program Today to Jumpstart Becoming an Economist!
Now that you know how to become an economist, learn how to earn your economics degree!
Click on any of the sponsored listings on this page or complete the form to get matched to the perfect economics program for you.
---
[i] bls.gov/ooh/life-physical-and-social-science/economists.htm#tab-4 [ii] onetonline.org/link/summary/19-3011.00 [iii] bls.gov/ooh/life-physical-and-social-science/economists.htm#tab-2 [iv] bls.gov/ooh/life-physical-and-social-science/economists.htm#tab-5 [v] bls.gov/ooh/life-physical-and-social-science/economists.htm#tab-3