As more and more diseases and health problems gain public awareness in America, one issue in particular remains shrouded by stigma: mental health struggles. The same people who won't hesitate to see a doctor if they suspect they have cancer, diabetes, or any other physical illness will avoid seeking help for problems like depression or anxiety because of the shame or embarrassment often attached to therapy and counseling. 

That's why Talkspace.com was founded: to provide patients with affordable, private therapy sessions that take place via phone, video or private chat rooms on the web. As the Head of Clinical Development for Talkspace, Nicole Amesbury knows how crucial it is to offer mental health services that fit people's schedules and budgets while meeting their needs for privacy (or even anonymity).  
Mental Health Help
A Licensed Mental Health Counselor, Amesbury doesn't just spearhead clinical development for Talkspace – she also practices therapy directly with patients through the website, too. She has multiple certifications in a wide array of clinical practice areas, including eating disorders, children and trauma, domestic violence, suicide prevention and sexual harassment. Prior to becoming a Licensed Mental Health Counselor, Amesbury earned her Master of Science in Counseling Psychology and Bachelor of Science in Psychology from Nova Southeastern University. 
Read on to find out why Amesbury thinks online and mobile platforms are the wave of the future for counseling and psychotherapy, and how the field of psychology is embracing new technology to reach more patients on their own terms.
eLearners: Tell us more about TalkSpace.com.  What is the purpose of the website, and how does it utilize technology to treat patients?   
NA: Talkspace provides psychotherapy by licensed clinicians, in different technology-based modalities for people in an affordable and convenient way that helps to limit barriers people traditionally have faced when seeking counseling. Simply put, it is therapy for the way people live today.
eLearners: How does Talkspace blend conventional means of therapy with newer forms of technology?
NA: Therapists talk with clients and develop a therapeutic relationship. Traditional effective treatments, like existential and cognitive behavioral therapy are practiced on the site. This is much the same as face-to-face therapy.
The client-therapist relationship is at the core of what we do, providing individualized care. The technology we use is confidential, encrypted, secure, and unless you choose to use your real name, also anonymous. Clients visit therapists via asynchronous chat in a private room that they can access via App (phone or tablet), mobile Internet or PC. Video based therapy is also utilized.
eLearners: What are some of the biggest challenges in psychology right now?  Is new technology addressing these issues?
NA: One of the biggest challenges in psychology is to meet people where they are.  According to a report by the Substance Abuse and Mental Health Services Administration, among those reporting serious mental health disorders, only 61% received treatment.[i]
Therapists must understand the barriers that exist to people getting treatment. Technology is able to meet people and accommodate them while keeping the highest standards of ethics and care.  It is of utmost importance to make sure that vulnerable populations are given access to safe, effective and reliable care.  In addition to that, mobile technology is very much a part of our lives. The convenience of using it just makes sense.
eLeaners: In your opinion, what are some of the biggest technological innovations in psychology today (besides Talkspace)?
NA: Some of the biggest innovations are that people can record and track symptoms and behaviors in a way they never could before via their smartphone. Access to medical records and the fast exchange of information between providers is unlike we have ever seen before.  Hopefully, we will capitalize on this and continuity of care can be improved.
eLearners: Are most psychologists and therapists open to these new innovations?  What is your organization doing to encourage their use?
NA: I do not believe most psychologists and therapists are open to these innovations. I believe more and more are realizing they will need to be. But, we are still pioneers and are disrupting the status quo. Talkspace is encouraging these innovative treatments and helping therapists in a variety of ways. We have developed a strong community who advocate for responsible and ethical use of technology. For therapists that join us, we have training on our platform along with supervision and consultation. We are lucky to have Dr. Irvin Yalom and Dr. Iris Reitzes to lend their clinical expertise and wisdom.  
eLeaners: Tell us more about your education and career background.  Has anything in particular influenced your openness to using technology to treat patients?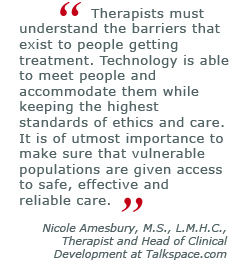 NA: Yes. I attended Nova Southeastern University. It was named the "most wired school" by The National Jurist magazine. I attended many classes using on-line platforms. The daily interaction with technology helped.
All of my previous work experiences helped give me in some way to be poised for this particular way of using technology to treat. I became frustrated at seeing so many people not getting the help they need because they don't have transportation, can't get time off work, or afford childcare. It led me to embrace alternative ways that we could help people.  Also, working in a community mental health setting, you see the benefit of finding ways to help people in the least restrictive setting so that they can be more independent. 
eLearners: Are colleges and universities designing new psychology curriculums around advances in technology?
NA: Yes, they are. As a matter of fact, University of Lancaster Spectrum Centre for Mental Health Research has recently announced a fellowship to contribute to a program of research exploring the role of online interventions in supporting people with mental health problems. Stanford University is now offering classes around mobile health. We will continue to see research in major Universities as well as an expanding curriculum.
eLearners: What are your top tips for students entering the field of psychology who may have an interest in using technology-based methods? 
NA: My top tip is for students to use technology with a greater awareness. Participating in on-line therapy and having real experiential learning can be an important part of that, too.
I think it is paramount to move beyond the concept that technology is only about being quick and easy. We need to examine the belief that all results have to be at lightning speed all the time and that this is somehow superior. Technology can ultimately benefit us more if we use it in a way that serves consciousness.
Rollo May wrote in Love and Will, "But there comes a point (and this is the challenge facing modern technological Western man) when the cult of technique destroys feeling, undermines passion, and blots out individual identity...  Tools are no longer an enlargement of consciousness but a substitute for it and, indeed, tend to repress and truncate it." 
May wrote that about seven years before Steve Jobs and Steve Wozniak were in a garage building the first Apple computers.
Humans are always creating, innovating. Our anxiety will not let us stop actually. Students need to keep in mind that they can be responsible with the freedoms that technology offers and use it in a way that is meaningful.
eLearners: Is there anything else you would like to share that you feel would be valuable to students who are considering studying psychology?   
NA: There are many areas in psychology that a person can work in. Of course psychotherapy and helping people is one of those areas. If you are going to be therapist, it will require you to be close to people in some way. It can be extremely rewarding and also very challenging to be with people when they are in great pain. For people to share in this way with you and let you into their lives is a great privilege. Never forget that service is a privilege.
Are you interested to see what careers in psychology there are? Check out our all of our information on Psychology and browse our free listings of online degrees and programs!
---
[i] usatoday30.usatoday.com/news/health/medical/health/medical/mentalhealth/story/2012-01-19/Many-with-mental-illness-go-without-treatment-survey-says/52653166/1
The expert interviewed for this article may be compensated to provide opinions on products, services, websites and various other topics. Even though the expert may receive compensation for this interview, the views, opinions, and positions expressed by the expert are his or hers alone, are not endorsed by, and do not necessarily reflect the views, opinions, and positions of [eLearners.com] or EducationDynamics, LLC. [eLearners.com] and EducationDynamics, LLC make no representations as to the accuracy, completeness, timeliness, suitability, or validity of any information in this article and will not be liable for any errors, omissions, or delays in or resulting from this information or any losses or damages arising from its display or use.