You want a career that involves helping people. Your friends ask you for advice. You're the voice of reason in your family. Sound like you? Consider a career as a counseling psychologist!
You may have this drive to pursue a career as a counseling psychologist, but don't have the information you need—like what is the typical counseling psychologist salary, or what types of counseling degrees are out there. Put your mind at ease, we have the information you want right here!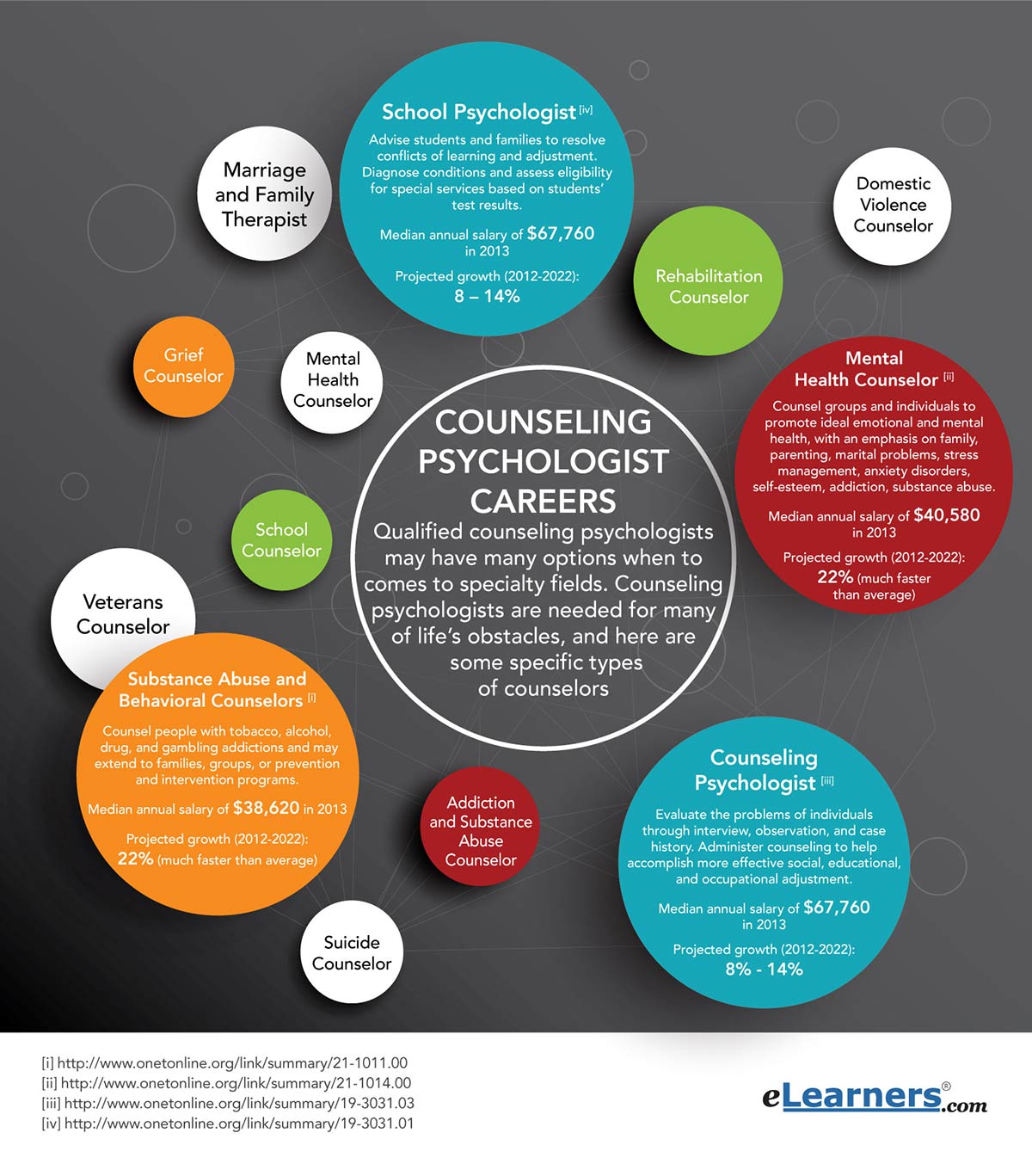 How to Become a Counseling Psychologist[i]
With so many different types of psychology degrees, you may be left with the glaring question of how to become a counseling psychologist. Earning a bachelor's degree in psychology is a good start to jumpstarting a career as a psychologist, but most types of counseling careers require a masters (MA or MS) or doctorate (PsyD or PhD) level degrees in psychology.
In addition, many counseling psychologist positions also require the candidate to be licensed or certified (these requirements and licenses may vary by state or region), successful completion of an internship, at least 1 to 2 years of professional experience, and to pass the Examination for Professional Practice in Psychology. Some states also require licensed psychologists to complete continuing education courses in order to maintain their licenses, so a counseling psychologist career is a lifelong pursuit of continued education and knowledge.
Although counselor psychology salaries will vary based on the type and place of employment, among other factors, in 2013 the counseling psychologist salary was a median of $67,760[ii]. Keep in mind that this figure may be based largely on people who have higher than a bachelor's degree.[i]
Types of Counseling Degrees
As with many science-based professions, there are several types of counseling degrees. Here are the different types of counseling degrees:
BS: Bachelor of Science in Psychology
BA: Bachelor of Arts in Psychology
MS: Master of Science in Psychology degree
MA: Master of Arts in Psychology degree
PsyD: Doctor of Psychology
PhD: Doctor of Philosophy in Psychology
For explanations of psychology abbreviations that you may come across in your research or education, head over to our Psychology Abbreviations page.
Types of Counseling Specialties
The requirements and education for the following careers varies, so be sure to research each profession before committing to any long-term education program.
School Counselor
Mental Health Counselor
Community Mental Health Counselor
Suicide Counselor
Grief Counselor
Addiction and Substance Abuse Counselor
Rehabilitation Counselor
Spiritual Counselor
Veterans Counselor
Marriage and Family Therapist
Domestic Violence Counselor
Child Pediatric Counselor
Child Abuse Counselor
Transformational Counselor
Counseling Psychologist Job Description: Does it exist?
The short answer is no. You'll never find one distinct, exact counseling psychologist job description. That's because in all industries and professions, the responsibilities of a counselor will vary greatly. One similarity among counseling job descriptions is the necessity to keep records and histories confidential and private. Here are some general descriptions of different types of counseling careers:
Counseling Psychologist[iii]: Evaluate the problems of individuals through interview, observation, and case history. Administer individual or group counseling in order to help individuals accomplish more effective social, educational, personal, and occupational adjustment and development.
Median annual salary of $67,760 in 2013
School Psychologist[iv]: Advise students and families to reconcile conflicts having to do with learning and adjustment. Administer psychological tests and interpret test results. Diagnose conditions and assess eligibility for special services based on students' test results.
Median annual salary of $67,760 in 2013
Mental Health Counselor[v]: Counsel groups and individuals to repair and promote ideal emotional and mental health. With an emphasis on prevention, advise on matters related to but not limited to: family, parenting, marital problems, stress management, anxiety disorders, self-esteem, addiction, substance abuse.
Median annual salary of $40,580 in 2013
Substance Abuse and Behavioral Counselors[v]: Counsel individuals who have tobacco, alcohol, drug addictions, as well as with gaming addictions or eating disorders. Counseling may extend to families, groups, or prevention and intervention programs. Many of these counselors hold master's degrees and may not require a doctorate level degree.
Median annual salary of $38,620 in 2013
---
[i] bls.gov/ooh/life-physical-and-social-science/psychologists.htm#tab-4 [ii] bls.gov/oes/current/oes193031.htm [iii] onetonline.org/link/summary/19-3031.0 [iv] onetonline.org/link/summary/19-3031.01 [v] onetonline.org/link/summary/21-1014.00