Richelle Futch is a clinical social worker who is currently working in private practice as an individual and couples counselor in Washington State. She believes in a humanistic approach, in which the counselor treats clients as equals and serves as an insightful guide while they do the required work to create change. She earned her Master's degree in Social Work from the University of Washington and is certified in Dialectical Behavioral Therapy, Cognitive Processing Therapy for Post-Traumatic Stress Disorder and Anger Replacement Training.

After high school Futch joined the Marine Corps, where she worked in finance. When she decided to pursue another calling, she utilized funds from the Servicemen's Readjustment Act of 1944 to help her  earn her Social Work degree. While in school, she volunteered as a Court Appointed Special Advocate (CASA) for foster children, which gave her first-hand experience with broken families and the impact that foster care has on children.
For six years, Futch worked as a Counselor and Treatment Coordinator with the Department of Health and Social Services/Juvenile Rehabilitation Administration (DSHS/JRA) in Washington State. This was extremely impactful as it further illustrated how relationships between parents can affect their children. Futch has also worked as an ER social worker and as a counselor at Fort Lewis, where she assessed and treated soldiers and their families.
Her awards include a Navy Achievement Medal from her time in the Marine Corps, and an Integrated Treatment Model Excellency Award from the DSHS /JRA in Washington State.
eLearners: What made you decide to pursue a career in couples counseling?
RF: Working with children from broken homes and seeing first hand how their behavior and values mirror that which is modeled (or not modeled) at home made me want to have a bigger impact on future children. I believe that targeting people in relationships and strengthening them as a couple directly changes the outcomes for their children. For me, this is getting as close to the source as possible.
eLearners: How have techniques in marriage therapy changed over the course of your career?
RF: Traditional "talk" therapy techniques where you focus in session on active listening and reflective 'parroting' communication was the primary technique most clinicians used in the past. While communication is still very important and must be addressed, it isn't the only factor. Now, I am finding a stronger need to recommend individual therapy for the couples along with couples therapy. I am seeing the bigger challenge for couples is not each other, but themselves. Bringing couples together who are working on their own past issues makes it so much easier for them to understand and respect one another. A natural consequence of this understanding and respect is better communication.
I attribute these changes to the shift in society's views of individuals and families. There has never been a time in our history where the need for individual satisfaction is greater than it is now. People are less likely to sacrifice their own needs or wants for the benefit of family. Men and women are entering into marriages where the stigma of divorce no longer exists. This allows them to have a contingency plan in place from day one. The mindset is if this isn't my story book romance, I can just get out.
eLearners: Are there any particular therapy techniques or models that you feel are more effective than others? 
RF: Personally, when it comes to couples therapy, I model my practice from the techniques of William (Bill) Doherty. He is just masterful at addressing commitment and morality, which is so important in a marriage. One of the things that stood out to me the first time I read one of his books is how he recognizes two distinct kinds of commitment  that couples make. One is called "commitment-as-long-as" and the other "commitment-no-matter-what". I ask every single couple I work with which of these they fall into, and which one would they like to be.  Most say they want to be committed no matter what, but have not been acting accordingly – and then in future sessions I am able to challenge those "as long as" behaviors and comments.  
I think Bill's method work because he keeps the traditional values of marriage in his therapy. Regardless of your religion, if you buy into those values, I think you are more likely to maintain committed to your marriage and to making it work. A good couples therapist will guide you into finding happiness as a couple instead of pushing you to find happiness solely as an individual. 
eLearners: Why do you think it's an interesting time to enter this field?
RF: Now is a great time to enter this field because health is at a forefront. If you look at your social media accounts on any given day you can see one healthy recipe post after another and half of your friends either sharing their run routes or tagging themselves in at the gym. This means, people want to be healthier and feel better. Mental health support can be the difference between having the goal and achieving the goal. It is our job to assess motivation and engagement regularly and address the barriers that are getting in the way.  
With regards to couples and relationships, a new trend I am noticing in my practice is the number of unmarried couples seeking couples therapy. In the past, friends and family would discourage un married couples from "working too hard" on their relationship saying they should just break up. However, couples repeatedly tell me that they want to exhaust every means possible before ending their relationship. They want to be sure it is over before ending it – just to try again months later with the same results. Couples are finding that couples counseling can be a valuable platform for learning new skills that ultimately solve the problems they face in relationships.  
eLearners: Are there particular struggles/issues that you find are common when it comes to military couples or families?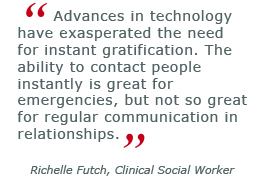 RF: As a Veteran, and a military spouse, I absolutely see specific struggles and issues common in military couples. Some of the unspoken struggles come with obligation to their job vs. commitment to their marriage. When the  civilian spouse confuses the definition of obligation vs. commitment then they start keeping score. Keeping score is never good. When this occurs, it is important to assess the real core issue (usually the spouse feeling neglected or not appreciated). 
Trust is already a big issue for military families, due to the constant separation that happens. Then you add to that the military culture of "what happens here stays here" which creates further separation. This presents many difficulties for couples. There has to be open honest discussions on this topic including fears and expectations for these couples to succeed.
Also, the effect that multiple deployments and war have on the family is something not found in other couples.  Especially when physical or mental injuries come home with them. If you are working with a military family suffering from the injuries of war, it is your duty to understand the intricacies of the military and the resources available. If this is outside your scope, you should refer them to someone who specializes with this cliental. 
eLearners: In your opinion, how does reliance on social media and the popularity of dating sites affect relationships? 
RF: Advances in technology have exasperated the need for instant gratification. The ability to contact people instantly is great for emergencies, but not so great for regular communication in relationships. People are no longer afforded space in their everyday life. This is robbing some people of what little independence they have in their relationships. 
Naturally,  people tend to complain to their friends and families when things aren't great. Venting is a great stress reliever.  Now people are taking those vents to social media. Publicly shaming your partner not only damages your relationship, but your support group will likely not encourage commitment to your relationship if you continually appear unhappy and dissatisfied.  
Social media and dating sites are great for people who have difficulty finding partners the traditional way, however they can create a venue for infidelity and insecurities in relationships.  On the extreme side, dating sites can also be a convenient way to prejudge someone. Turning people into menu items of their core ingredients in a small easy-to- read profile. Convenient yes, but very impersonal – and this can be counterproductive to finding and building a relationship. 
eLearners: Why do you think you're seeing more couples who are not married but are seeking counseling? 
RF: I think people want payout on their investments. Many people have tired of dating sites and the "getting to know you" phases of relationships and they don't want to go through it all again. These individuals do not want to be single. I think couples are well aware that relationships take work and yet they confuse struggle with work. They think that the misery they feel is par for the course.
In my opinion, many of the non-married couples I see stay together for the wrong reasons. A lot of them have attachment issues from childhood and come from broken families. This causes them to hold onto relationships far past their expiration dates because they are either afraid of being alone, or don't want to hurt the other person. In my opinion, all couples therapists should have a working knowledge of attachment theory, because it's common to see attachment issues with this particular cliental.
What would you say are the most important traits of an effective counselor?  
RF: The first trait is being trustworthy. Sharing stories with other therapists, family and friends is not okay.  Yes, even if you leave out identifying factors, it is still unethical. It is our responsibility to seek Supervision, or a Consultation Team for professional support. These venues are in place because they too hold the same ethical guidelines with regards to confidentiality. Honor your clients by being trustworthy.  
The second trait is having empathy. Remember empathy and sympathy are not the same thing. Without empathy, you will not accept clients as they are and you will have little success in supporting the changes they need to make. 
I believe the most important trait for effective counselors is radical genuineness. Dialectical Behavioral Therapy teaches radical genuineness as their 6th level of Validation. This means that you show up in session; not you in this role of therapist. Using radical genuineness shows your client that you see them as an equal, valuable, and capable human being. Remember to model the traits in session that you are trying to instill in your client. If you want your client to be flexible, then you need to show flexibility. If you want your clients to be non-judgmental, then you need to remain non-judgmental. You also aren't perfect. If you make a mistake, own it and discuss it. 
eLearners: What are the most challenging and gratifying aspects of your work, and why?
RF: The most challenging aspect of my work is always feeling like I'm not doing enough. We have constraints in the patient-counselor relationship and not breaking those barriers sometimes can be difficult. Our clients often look at us to be the super heroes  they've been waiting for to save them. It isn't our job to save them. It's our job to work as their counsel. I have to remind myself of this regularly. The most gratifying aspect is any small improvement I can help make in my clients' lives. While the success is theirs, I find it very fulfilling to have been allowed to witness this time in their life.
eLearners: Do you have any advice for students you are thinking of pursuing their degrees in marriage or family therapy? 
RF: Don't settle for the minimum with your education. Broaden your learning into other realms of therapy as well. Do not just settle for the prerequisites your program requires. Go to continuing education classes beyond your state requirements. You will learn tools that you can apply to your clients and that will make a huge difference!
---
The expert interviewed for this article may be compensated to provide opinions on products, services, websites and various other topics. Even though the expert may receive compensation for this interview, the views, opinions, and positions expressed by the expert are his or hers alone, are not endorsed by, and do not necessarily reflect the views, opinions, and positions of [eLearners.com] or EducationDynamics, LLC. [eLearners.com] and EducationDynamics, LLC make no representations as to the accuracy, completeness, timeliness, suitability, or validity of any information in this article and will not be liable for any errors, omissions, or delays in or resulting from this information or any losses or damages arising from its display or use.