By earning a degree in psychology, you may have many exciting and fulfilling career options available to you. Some of the most popular psychology professions are listed below.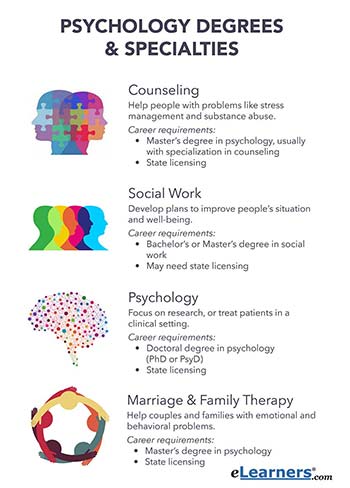 Counseling Psychology Careers
A profession in mental health counseling is one of the most commonly known psychology careers and involves helping people with problems such as stress management and substance abuse. If you pursue counseling, you have the option to work for a mental health center or open your own practice.
Career Requirements: You need a master's degree in psychology, preferably a program that is known for specializing in counseling. A license from the state of practice is also required, which varies by state and often involves supervised experience and a written exam.
Social Work Psychology Professions
A social worker provides support to people going through difficult situations, such as unemployment or divorce, helping to improve their situation and well-being. Clinical social workers are usually in private practice, while direct service social workers are likely employed by government agencies or non-profits. In social work, you would diagnose and treat emotional, mental and behavioral disorders, as well as conduct therapy for individuals and families.
Career Requirements: Becoming a clinical social worker requires at least a master's degree in social work, where as a direct service social worker only requires a bachelor's degree. You may also need a state-issued license that often requires supervised experience, continuing education on matters such as substance abuse or domestic violence, and a written exam.[i]
Psychology as Professional Career
As one of the most popular psychology careers, you have the option to focus on research, work in a clinical setting with patients, or be a part of a healthcare team with doctors and social workers.
Career Requirements: Most psychologist positions require a doctoral degree in psychology, either a PhD or a Doctor of Psychology degree, otherwise known as a PsyD. A license is required by the state where you want to practice and each state has different requirements. New York, for example, has requirements including documented supervised practice experience and passing a test.[ii]
Marriage and Family Therapy Psychology Careers
In the field of marriage and family therapy, you can expect to help treat couples' and families' emotional or behavioral problems. By listening and talking, you can help patients understand their challenges and guide them to find solutions that build stronger and healthier relationships.
Career Requirements: A master's degree in psychology and a license from the state you will practice in are required to be a marriage and family therapist. For example, Florida's requirements include supervised clinical experience and passing a written exam.[iii]
Popular Psychology Careers & Specialties
When considering psychology careers, most people think of work in social services or education. While those careers remain popular and relevant, there are new specialties emerging in careers in psychology that offer new ideas on what to do with a psychology degree. Thanks to the continuing popularity of crime TV shows like Dexter, Criminal Minds and NCIS, forensic psychology is one of the hottest careers for psychology majors. From helping to profile criminals, to assisting lawyers in jury selection, forensic psychologists work in just about every area of the justice system.
If you're a sports fan, look at sports psychology. You can help teams and individuals break through mental barriers to reach their full potential. And with the Baby Boomers reaching retirement age, gerosychologists will be needed to help them deal with issues including depression, grief and anxiety.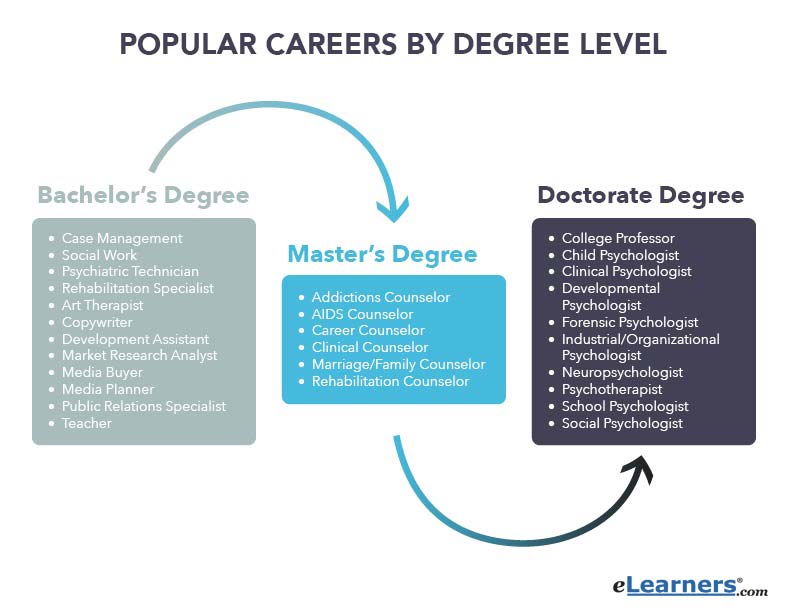 [i]bls.gov/ooh/Community-and-Social-Service/Social-workers.htm#tab-1 | [ii]op.nysed.gov/prof/psych/psychlic.htm | [iii]doh.state.fl.us/mqa/491/info_491_Lic_req.pdf