Marriage and family therapists diagnose and treat mental and emotional disorders –whether cognitive, affective or behavioral – within the context of marriage and family systems. They deal with issues associated with addictions and substance abuse; family, parenting, and marital problems; stress management; self-esteem; and aging.
Some examples of alternative potential job titles for marriage and family therapists include counselor, correctional counselor, mental health therapist, case manager, mental health specialist, behavior support specialist (BSS) and child care counselor.
What Are Marriage & Family Therapists Known For?
Ideal candidates for this career are empathetic, critical thinkers who enjoy:
Actively looking for ways to help people
Assessing performance of individuals to make improvements
Guiding clients in the development of skills for dealing with their problems
Developing and implementing treatment based on clinical experience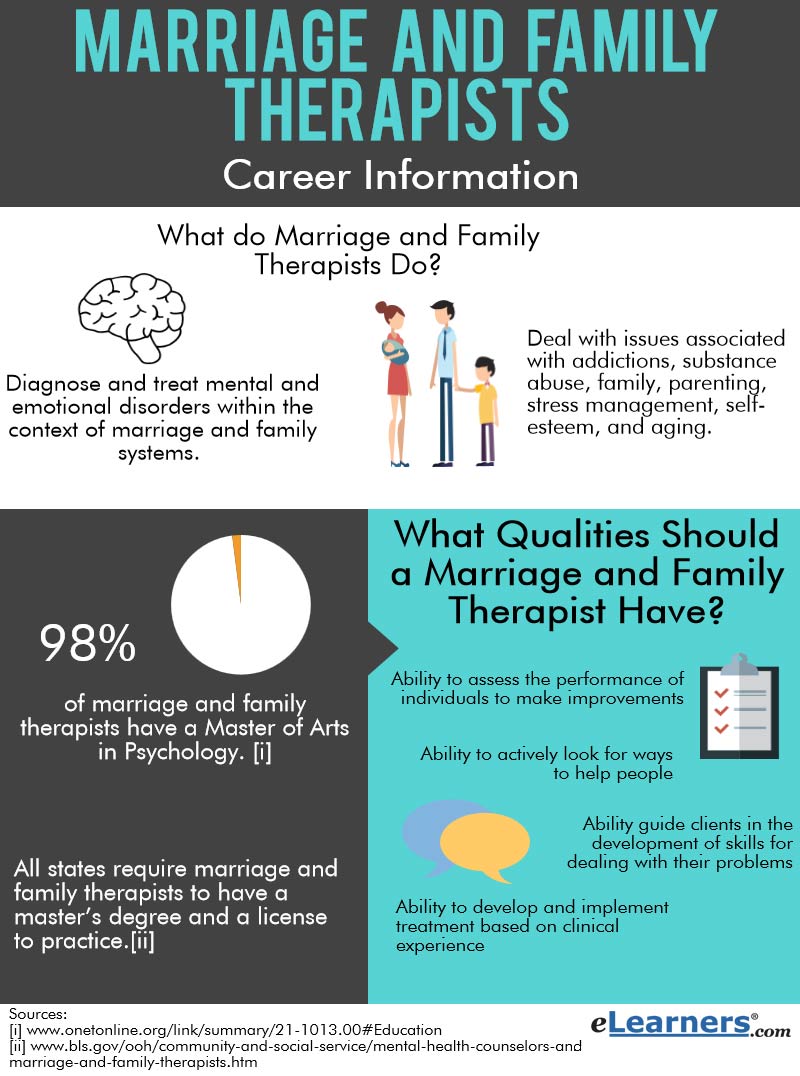 What Is the Job Outlook for Marriage and Family Therapists?
Employment of marriage and family therapists is expected to increase by 29 percent from 2012 to 2022, much faster than the average for all occupations.[i]
According to the Bureau of Labor Statistics:
"Growth is expected in both occupations as more people have mental health counseling services covered by their insurance policies."[i]
Candidates for these positions should see another 48,200 jobs added to the U.S. economy during this time period.[i]
How Might I Prepare for this Career?
According to ONET, 98% of marriage and family therapists have a Master of Arts in Psychology. [ii] This advanced degree typically takes 2 years to complete. According to the Bureau of Labor Statistics, all states require marriage and family therapists to have a master's degree and a license to practice.[i]
Which Online Programs Might Support this Career Goal?
---
[i] bls.gov/ooh/community-and-social-service/mental-health-counselors-and-marriage-and-family-therapists.htm | [ii] onetonline.org/link/summary/21-1013.00#Education