If you're considering pursuing an Online Forensic Psychology Degree, you've probably asked yourself, "What is forensic psychology?" You've probably seen forensic psychologists in action on shows like Dexter and CSI , but you should know how this profession helps solve real life crimes outside of the realm of Hollywood.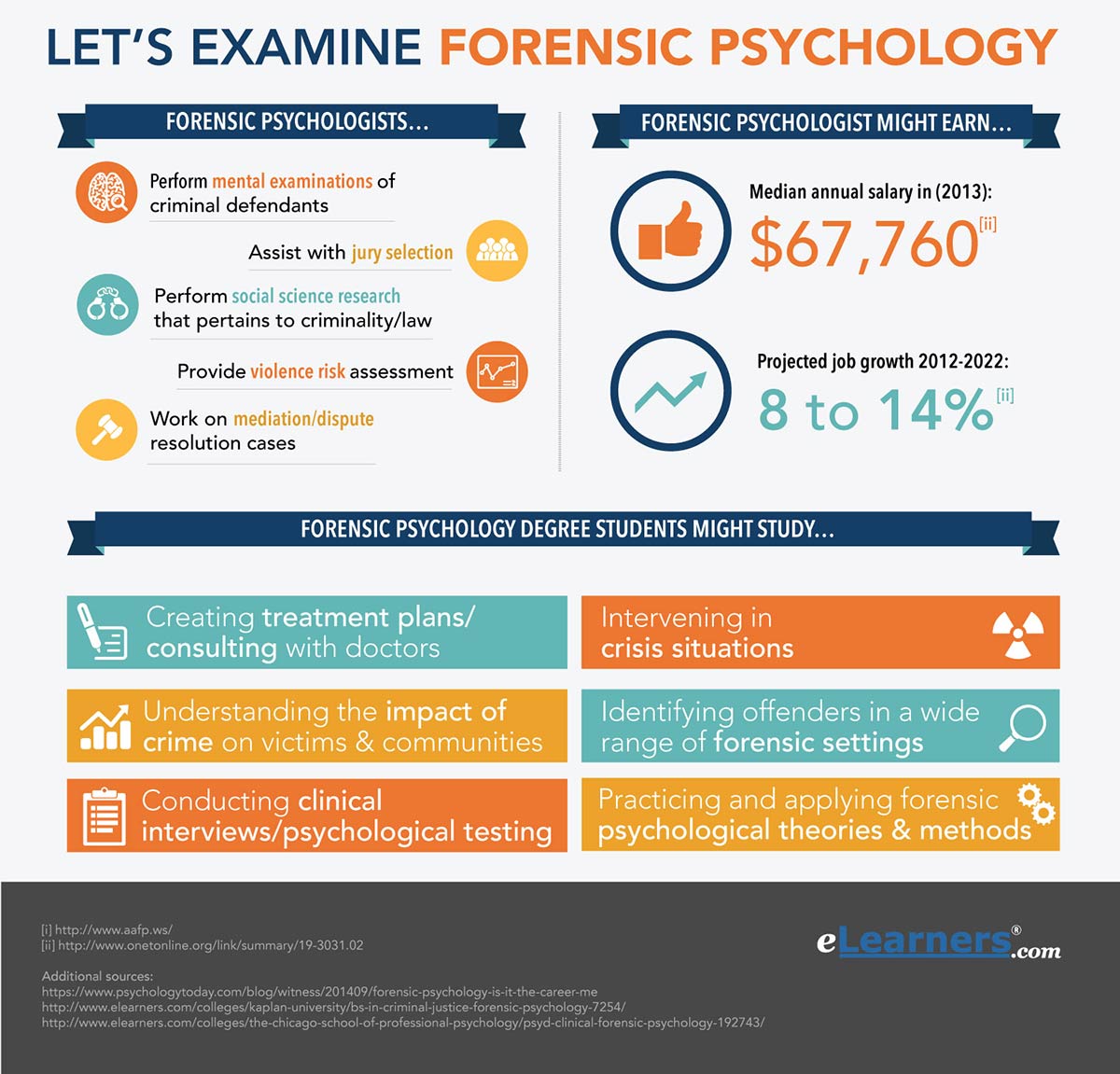 Forensic psychology is a sub-discipline of psychology that deals with questions and issues relating to the law and the legal system. Forensic psychologists specialize in applying psychological knowledge and practices to legal matters in criminal or civil court systems. 
This may involve things like conducting psychological evaluations, offering expert psychological testimony or serving as a trial consultant. In fact, the American Psychology-Law Society (AP-LS) currently has around 3,000 members including scholars, practitioners and researchers who work in the realm of psychology and law.[i]
Now that we've answered the question "What is forensic psychology?" let's take a look at the different forensic psychology programs out there that may help you qualify to pursue different forensic psychology careers.
Online Forensic Psychology Degree Programs
Although earning a master's forensic psychology degree may be sufficient for some positions, in general, you will need to earn a doctoral degree in psychology in order to pursue a career as a forensic psychologist.
There are several different education paths you can choose to become qualified to pursue a career as a psychologist.  You can complete a Ph.D. in psychology or a Doctor of Psychology (Psy.D.) degree.  The Ph.D. in forensic psychology is a research degree.  Students must take a comprehensive exam and create a dissertation based on their own original research.  A Psy.D. is different because it's a clinical degree that is often based on practical, "real life" work and exams rather than research and a dissertation.  It can take students a minimum of 5 to 7 years to earn their doctoral degree in psychology, which is usually preceded by a bachelor's degree and master's degree. 
If you enroll in an Online Forensic Psychology Degree, you would most likely take courses that delve into:
Practicing and applying forensic psychological theories and methods<
Enhancing your ability to identify and interact with mentally ill individuals
Intervening in crisis situations
Understanding the impact of crime on victims and communities
Conducting clinical interviews/psychological testing
Creating treatment plans/consulting with doctors
Identifying offenders in a wide range of forensic settings
Researching and analyzing programs focusing on the incarcerated and juvenile offenders
Forensic Psychology Career Duties
Now that we've covered what you may study in forensic psychology programs, including Online Forensic Psychology Degree programs, let's discuss the roles and responsibilities of forensic psychologists. Forensic psychologists are licensed psychologists who specialize in applying psychological theories and knowledge to criminal and civil legal matters. Exact responsibilities will vary depending on your position and employers, but some of the daily tasks you may perform as a forensic psychologist include:
Assisting with jury selection
Performing mental state examinations of criminal defendants
Providing violence risk assessment
Working on personal injury or family law cases<
Performing social science research that pertains to criminality/law
Working on mediation/dispute resolution cases
Do I need certification to practice as a forensic psychologist?
According to the Bureau of Labor Statistics, practicing psychologists require licensure or certification. Licensing laws vary by state and by type of position, but most clinical and counseling psychologists must earn a doctorate in psychology; take part in an internship; have 1-2 years of professional experience; and must pass the Examination for Professional Practice in Psychology. Although board certification is not required for most psychologists, it can be a great way to demonstrate your professional expertise, and show that you meet established standards for the field. To obtain Specialty Board Certification in Forensic Psychology, you must apply to the American Board of Professional Psychology (ABPP).[ii]
What types of skills may be beneficial to a forensic psychology career?
Forensic psychologists must have both a strong background in science and solid investigatory skills.  You should be comfortable with creating written reports and with the public speaking and cross-examination involved in court testimony. Having strong analytical skills and good attention to detail are also important to this type of career.
Below are more examples of specific skills that forensic psychologists should have:
Good critical thinking /problem solving skills
Clinical psychology training and experience
In-depth knowledge of social and cultural issues
Excellent written and oral communication skills
Legal knowledge (including mental health law, case law and courtroom procedures)
Solid understanding of scientific theory and empirical research
Comfortable under pressure/patient
Excellent observational skills
Potential Salary and Job Growth[iii]
Now that we've covered what's involved in working as a forensic psychologist, let's take a look at the salary potential and job projections for this career according to ONET*Online.  So, now that you're more familiar with the role of a forensic psychologist, get started with your Online Forensic Psychology Degree by applying for more information from programs!
Median annual salary: $67, 760
Projected job growth by 2022: 8 to 14%
Projected job openings by 2022: 55,900
---
[i] apadivisions.org/division-41/index.aspx | [ii] bls.gov/ooh/life-physical-and-social-science/psychologists.htm#tab-4 | [iii] onetonline.org/link/summary/19-3031.02 | Other Sources: aafp.ws/ | psychologytoday.com/blog/witness/201409/forensic-psychology-is-it-the-career-me | abfp.com/brochure.asp | bls.gov/ooh/life-physical-and-social-science/psychologists.htm#tab-4 | elearners.com/colleges/kaplan-university/bs-in-criminal-justice-forensic-psychology-7254/ | elearners.com/colleges/argosy-university/forensic-psychology-ma-179077/ | elearners.com/colleges/the-chicago-school-of-professional-psychology/psyd-clinical-forensic-psychology-192743/