There's a good chance that you're familiar with the concepts of marketing and psychology, but what happens when the two come together? You get exactly what it sounds like, a marketing psychologist. Picture someone breaking down the decision-making process behind why some people choose Pepsi or Coca Cola, and you have a Marketing Psychologist! Marketing psychology is a relatively new field that is focused primarily on consumer behavior and how it affects the decisions made by marketers.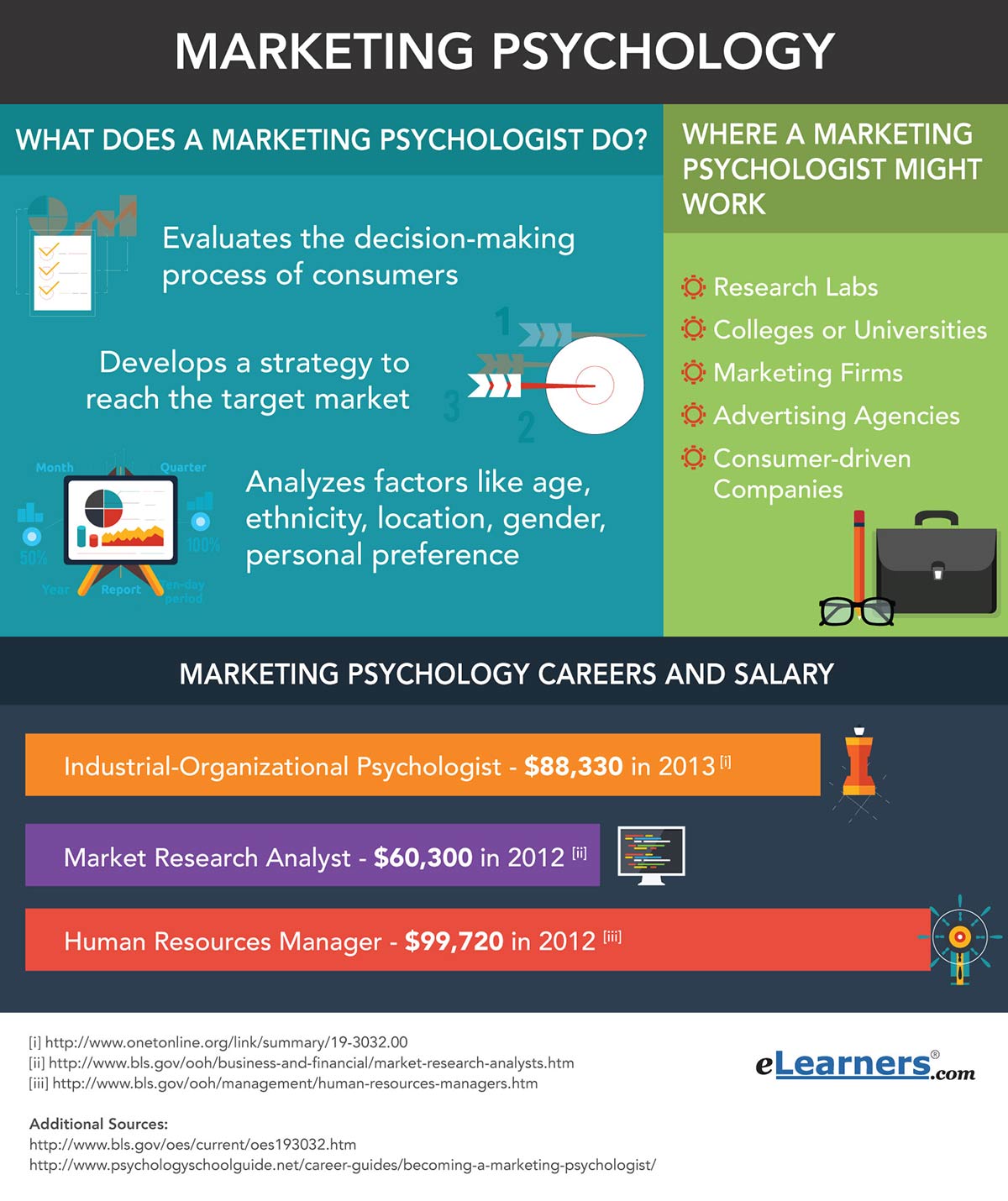 Within marketing psychology, there are several different career paths you could pursue—including jobs in public relations and human resources—however, two occupations at the heart of the field are marketing psychologists and marketing research analysts.
Let's delve a little more into the ins and outs of marketing psychology by examining the roles, work environments, education requirements and potential salaries for marketing psychologists and market research analysts.
What is a marketing psychologist?
The primary role of a marketing psychologist is to evaluate the decision-making process that specific consumers undergo when they are making a purchase, in order to develop a strategy to better reach them.  In order to do so, marketing psychologists consider the  factors—like age, ethnicity, geographic location, gender, and personal preference—that drive people to purchase particular products. Some marketing psychologists may be actual advertisers or marketers themselves, while others may focus on research training or consumer advocacy. Ultimately, the goal is to look into what's going on with the consumer, and then provide companies with a plan that helps better sell their products or services. 
Where might marketing psychologists work?
Because there are so many companies that want to appeal to consumers, marketing psychologists have the option of pursuing jobs in many different settings – including on a consultancy basis. Some examples of the types of companies that may employ a marketing psychologist include:
Research labs
Colleges or universities
Marketing firms
Advertising agencies
Consumer-driven companies or corporations
What type of degree may I pursue to help become a marketing psychologist?
Because the field of marketing psychology is relatively new, there are not the same hard and fast degree requirements for becoming a marketing psychologist as there are for positions like clinical psychologists. As such, marketing psychology degree programs are not universally offered at colleges and universities.  However, if you're looking to pursue this career path, you may want to consider earning a bachelor's degree in psychology—which can help provide a solid background in the skills needed to analyze human behavior.  If you already have a bachelor's degree in psychology, pursuing a graduate degree such as an MBA (masters in business administration degree) makes sense because it can give you knowledge in the areas like branding, market research and customer awareness.
If you want to go after higher-level positions and show that you have a greater level of expertise, you may want to pursue a Doctor of Psychology (PsyD) degree.  This type of degree can be quite intensive and it generally includes a practical clinical experience and passing an examination. If you're more interesting in the marketing side of things, you could pursue a PhD in marketing to enhance your knowledge in other areas like research methodology and economics.[i]
What are market research analysts?
Market research analysts study market conditions and examine potential sales of products or services. The goal is to help companies understand what people want, what they will buy, and how much they are willing to pay. Although they fall under the same broad field as marketing psychologists, the primary focus for market research analysts is on gathering and interpreting consumer info and sales data, rather than delving specifically into the psychology behind purchasing decisions.
For example, in a typical day, market research analysts may do things like use statistical software to analyze data; monitor and forecast sales trends; and evaluate the effectiveness of surveys, questionnaires or opinion polls. Once they gather the data, they help determine their employer's position in the marketplace (and offer marketing strategies) by analyzing competitors and the company's own pricing, sales and marketing methods.
Where may market research analysts work?
Because the majority of industries use market research in some capacity—similar to marketing psychologists—market research analysts can be employed in a variety of different areas. They can also choose to be self-employed or to work on a consultant basis.  According to the Bureau of Labor Statistics (BLS), in 2012, the industries that hired the most market research analysts were[ii]:
Finance and insurance
Wholesale trade
Management, scientific and technical consulting
Management of companies and enterprises
Manufacturing
What are the educational requirements for market research analysts?[iii]
According to the BLS, market research analysts generally need to earn a bachelor's degree in either market research or a related field like statistics, math or computer science. In some cases, market research analysts may have backgrounds in business administration, social sciences or communications. Although there is a definite focus on both psychology and marketing courses when it comes to becoming a marketing psychologist, market research analysts generally focus more  on statistics, research methods, economics and sociology in addition to marketing.
If you're looking to pursue a higher-level or leadership position, potential employers may require a master's degree in either marketing research, statistics and marketing or an MBA in addition your undergraduate degree. Whatever degree you do decide to pursue, internships or work experience in marketing, business or sales can be a great way to build your skills in things like report-writing and gathering and analyzing data.
What is the marketing psychology salary potential?
The salary potential for jobs in the field of marketing psychology will vary depending on the position and the employer. Although the government does not currently provide salary and job projection information specifically for marketing psychologists, industrial-organizational psychologists—a related profession—earned a median annual wage of $80,330 in 2012 and projected job growth by 2022 is 22% or more.[iv] The median annual wage for market research analysts in 2012 was $60,300 and projected job growth by 2022 is 32% or more. [v]
So, although the salary potential for industrial-organizational marketing psychologists may be higher (a career that is similar to marketing psychologist), the projected job growth for market research analysts is greater by 10%.[v]
What about certification?
Although there is not a currently a specific certification for marketing psychology, the American Board of Professional Psychology offers various other levels of certification, depending on your educational background and experience.  According to the BLS, certification for market research analysts is not mandatory, but it can help demonstrate your professional competency. If interested, you can apply for Professional Researcher Certification (PRC) from the Marketing Research Association. Candidates qualify based on knowledge and experience; must pass the exam; be a member of a professional organization; and have a minimum of three years working in marketing research.[vi]
---
[i] bls.gov/ooh/life-physical-and-social-science/psychologists.htm#tab-4 | [ii] bls.gov/ooh/business-and-financial/market-research-analysts.htm#tab-3 | [iii] bls.gov/ooh/business-and-financial/market-research-analysts.htm#tab-4 | [iv] onetonline.org/link/summary/19-3032.00 | [v] bls.gov/ooh/business-and-financial/market-research-analysts.htm#tab-1 | [vi] marketingresearch.org/certification | Additional sources: bls.gov/ooh/business-and-financial/market-research-analysts.htm#tab-4 | education-portal.com/articles/Careers_in_Marketing_Psychology_Options_and_Requirements.html | psychologyschoolguide.net/career-guides/becoming-a-marketing-psychologist/