1-on-1 with Phyllis Marshall, EdD, RN, CNE, Dean of the W. Cary Edwards School of Nursing at Thomas Edison State College 
by Erin Kent
If you're wondering whether an accelerated or bridge nursing program is right for you, you're not alone. Nursing is the one of the fastest growing occupations in America[i], and it makes sense that many students (especially busy adults) would want to earn their degree and nursing credentials as quickly as possible.  However, accelerated and bridge programs are work-intensive time commitments – and could require you to put aside many other responsibilities while working towards your nursing career goals. 

As Dean of the W. Cary Edwards School of Nursing at Thomas Edison State College, Dr. Phyllis Marshall has become an expert on nursing education curriculum, developing accelerated and bridge nursing programs that enable students to earn their degrees at a rapid pace. 
A Certified Nurse Educator by the National League for Nursing, Dr. Marshall has over thirty years of experience in nursing (particularly nursing education) and also holds two advanced degrees: a doctorate in Curriculum Theory and Development from Temple University's College of Education, and a Master of Science in Community Health Nursing from the University of Pennsylvania.  Previously, she earned her Bachelor of Science in Nursing from Herbert H. Lehman College.
Learn what Dr. Marshall has to say about accelerated and bridge nursing degrees in the interview below and explore whether these work- and time-intensive programs might be right for you. 
eLearners: Can you describe accelerated and bridge nursing programs?  How are these programs different from more traditional/long-term options, and what are the pros and cons to enrolling in one? 
Both programs are geared for older students who have already obtained a college degree in another area of study. In an accelerated 2nd degree program the student generally transfers in all their prerequisite and general education courses and takes nursing courses in a very short period of time.  Programs range from as little as 12 months to 18 months.  At the completion of the program they have earned a BSN degree and are eligible to sit for the NCLEX-RN exam.  These programs are very intense where students are generally in class 2 to 3 full days a week and at the clinical setting at least 2 full days a week. At Thomas Edison State College students earn 60 credits in 12 months.  The clinical theory courses are offered on ground and the courses without a clinical component are offered online.  In a traditional program these courses would be offered across all four years in a baccalaureate program. Accelerated 2nd degree programs are for students who are not already registered nurses.
A bridge program is for the student who is a registered nurse without a BSN degree but has a bachelor's degree in another area of study who is seeking the bachelor's or wants to advance to the Masters of Science in Nursing (MSN) without earning the BSN. It is important when choosing one of these programs to weigh the risks and benefits of obtaining an MSN without the BSN. In programs that do not lead to a BSN, if the student does not complete the program for whatever reason, the student is left with a number of earned credits that may not be transferrable to another institution. If the student must stop out, they have not completed a BSN or an MSN.
I believe that RNs coming back to school must choose wisely. Obviously students always expect to complete the degree, but life does get in the way. Be it family, career, financial, illness – these things all come upon us in an unexpected manner and sometimes students must stop out for a period of time. Personally I try to advise students interested in bridge programs to look for programs where they earn the BSN degree first, when they have completed the requirements for that degree, then continue on for the MSN or DNP.
eLearners:  What types of students are ideally suited to accelerated/bridge nursing programs?  Have you seen increasing interest from students in enrolling in them? 
Students who have majored in science or who have done well in the sciences are generally better prepared for an accelerated program.  With the rapid pace of new information it is an advantage to have a strong science foundation. These students also have less prerequisite courses to complete before coming into a program.  However, we see students from all walks of life enrolling in accelerated programs and succeeding.
eLearners: Have you developed curriculum for these types of programs before?  How is it different from developing curriculum for more traditional types of programs?
The difference is because of the rapid pace, students are required to digest a great deal of information in a very short period of time. There is much more reliance on the student being very well prepared for class. Earning sixty credits in one year is very challenging.
eLearners: What are the biggest challenges in the field of nursing right now?  What are you and other nursing educators doing to combat these issues?
There are many challenges as well as opportunities in nursing and healthcare in general. The looming shortage of nurses is an issue that cannot be avoided. The aging of the population and the predicted number of elderly requiring services over the next ten years, as well as the increase access to healthcare by individuals created by healthcare reform, has created a great demand for nurses.  We are at a juncture in healthcare right now that our system of care is transitioning. Patients in the hospitals are and will be very acutely ill.  Because of reimbursement much of the care will necessarily be performed outside the walls of the hospital setting. The role of the nurse is changing to focus on the management and coordination of that care wherever the patient might be. These challenges also become opportunities for nurses to more fully be able to provide health promotion and disease prevention activities for populations. Keeping people healthy has always been a responsibility of nursing, now the healthcare system has finally begun to see the benefit of such a focus.
eLeaners: Tell us more about your education and career background.  Has anything in particular influenced your openness to implementing accelerated programs?
I think my ability to have an open mind and see different perspectives was key to the development of this type of program. My background in community health nursing has always given me the ability to think out of the box about many things.  As a community health nurse you always need to be resourceful and seek solutions to problems in unusual ways.  My education in curriculum development helped me to articulate the program and of course my background in online education also made it possible to provide alternative learning opportunities in the program. The needs of adult learners are not the same as traditional 18 year old students. But adults in this type of program need as much support or maybe more than the traditional student.
eLearners: Can accelerated programs give nursing students a leg up on finding career opportunities? 
I believe so. The accelerated program student is generally older than the traditional college graduate. They usually come with work experience in another field or a related healthcare field. Employers tend to like the maturity level as well as the work experience these students bring. It also demonstrates quite a commitment on the part of the student to take on such a tremendous challenge, and employers like that in a candidate.
eLearners: Is it true that accelerated programs are more selective and intense than traditional programs?  How can students cope with these challenges?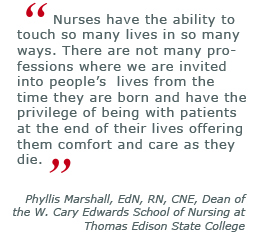 Accelerated programs are very selective. Generally students must have earned at least a 3.0 in their prior degree and all science courses must also reflect a grade of B. Students who do not perform well in the sciences are less likely to be successful in these rapid pace programs. Intense is an understatement.  As I said in an earlier question student support is key. Ideally students should be relieved of all their outside responsibilities to focus on their studies. Obviously this is very difficult to do since students have families and responsibilities. But reliable support systems are key.
Students must have excellent support systems. This includes financial support as well as emotional and physical support. We generally encourage students to plan well ahead before they actually enroll in a program like this.  Because of the tremendous amount of work they are advised not to work during the program. This takes a great deal of planning on the part of the student to organize finances and ready themselves.   There are scholarships and loan programs as well that students can take advantage of.   Students need to have a a strong emotional support system as well.  The pace of the program is definitely very fast and students will become stressed. By physical support I mean that ideally the student should not have to worry about the routine tasks of cooking dinner, doing the laundry, or cleaning the house. These are stressors that if relieved could offer the student more time for study. Childcare is a key factor that needs to be considered. Because the pace of the program is so fast, missing time from class or clinical is generally not an option. They need to have reliable supports in place to attend to children when they are sick or off from school.
Time management and study skills are also essential. Obviously students cannot learn everything and do everything. Students need to learn to organize their time in the most efficient and effective manner. What I tell students when they come into our program is that they need to seek out the resources available to them. Do not wait until you are drowning to ask for help. Be proactive in seeking assistance from the faculty and school.  Faculty and staff are more than willing to assist students and provide them with resources to help them study and organize.
eLearners: What are your top tips for students entering an accelerated/bridge nursing program? 
First would be to get their lives in order before they enter. Make sure they understand that this is a commitment of time and finances and prepare for this ahead of time. Simplify their lives for a year. Next would be to find reliable supports. Tell friends and family that this will be a rigorous year and they need help to be successful.  Make arrangements for childcare, so they do not have to worry about the well being of their children. 
Choose the right program for them. Make sure the program is accredited by either the Commission on Collegiate Nursing Education (CCNE) or the Accreditation Commission for Education in Nursing (ACEN). These are the two accrediting bodies for education in nursing.    In what learning environment are they most comfortable? Do they want a large program with many students or a smaller program where instruction can be more individualized?  Do they want all on ground courses where they come to campus for everything or would they be better with some courses in the online environment? 
Make sure they ask the correct questions about support the program offers the student. What kind of financial aid and scholarships are available to them as a second degree student? Depending on how much federal financial aid they used during their first degree, the amount of federal aid might be limited. Understand that financial aid might mean taking out private loans. What scholarships does the school offer? Where are their clinical sites? Who will be teaching them in class and in clinical - full or part time faculty? Are they available if help is required?
What is their success rate? How many students actually finish the program? How do graduates perform on NCLEX-RN exams?  What is the job placement rate as an RN for graduates?  These are all important questions.
Most importantly students really need to understand what they are committing to. Also understand that while difficult it is manageable and they will be nurses with an earned BSN in a year. It is definitely worth it if they choose the correct program. 
eLearners: Is there anything else you would like to share that you feel would be valuable to students who are considering studying nursing?
I believe nursing is a great career choice.  There are so many opportunities in the profession. Not only are there financial opportunities but the areas of practice are essentially limitless.  It is also a career that provides great personal fulfillment.
Nurses have the ability to touch so many lives in so many ways. There are not many professions where we are invited into people's  lives from the time they are born and have the privilege of being with patients at the end of their lives offering them comfort and care as they die.  
It is also nurses who have the opportunity to change not only an individual's life but make an impact on the health of entire communities. 
Nursing can take a leadership role in directing the health of this nation and frankly, the world. There is so much to be done and we need bright committed people to join the profession.
---
[i] bls.gov/ooh/healthcare/registered-nurses.htm
---
The expert interviewed for this article may be compensated to provide opinions on products, services, websites and various other topics. Even though the expert may receive compensation for this interview, the views, opinions, and positions expressed by the expert are his or hers alone, are not endorsed by, and do not necessarily reflect the views, opinions, and positions of [eLearners.com] or EducationDynamics, LLC. [eLearners.com] and EducationDynamics, LLC make no representations as to the accuracy, completeness, timeliness, suitability, or validity of any information in this article and will not be liable for any errors, omissions, or delays in or resulting from this information or any losses or damages arising from its display or use.