Nursing Career Paths: Where Will You Fit In?
Are you interested in the fast-paced, rewarding lifestyle that comes from earning an online nursing degree? If the idea of helping patients, assisting with their basic health care needs and improving their quality of life appeals to you, then pursuing a degree in this field might be something to consider.
As a graduate from a nursing degree program, your opportunities could span the broad field of health care, based solely on your interests. In fact, depending on the amount of time and the level of academic achievement you earn, various nursing career paths may become available to you. A certificate program, for instance, could lead you to pursue a career as a licensed practical nurse, whereas a master's degree in nursing may help prepare you to pursue positions relating specifically to this advanced knowledge base, such as nurse practitioner, anesthetist and midwife.
If you decide that you would like to continue your education, working your way through a Ph.D. in nursing will provide with the opportunity to become part of the educational process, allowing you to help develop a larger body of knowledge within this field. The salaries for each of these nursing career paths may vary, depending on your level of expertise and experience within the field, but if you're looking forward to a position as a registered nurse, the U.S. Bureau of Labor Statistics states that the median pay is approximately $65,000[i] per year.
Are you interested in developing your skills, pursuing your passions for the betterment of others? Individuals who have already established themselves in one career may work toward post-grad work in an accelerated program, allowing them to complete a bachelor's of science in nursing degree in as little as 11-18 months. If this is something you'd like to consider, check to see whether your schedule allows for this option.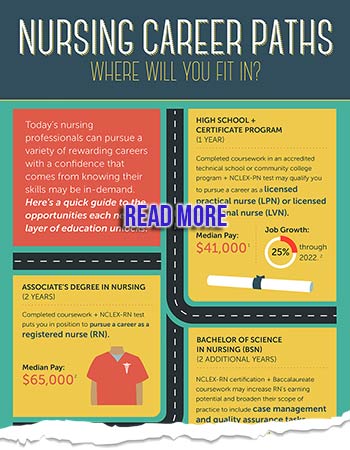 Want to share this image on your site? Just copy and paste the embed code above:
[i] bls.gov/ooh/Healthcare/Registered-nurses.htm