What Do Registered Nurses Do?
Are you interested in becoming a Registered Nurse? Nurses are the glue that holds together most hospitals, physician offices, clinics, and long-term care facilities. They work with doctors, patients, and caregivers to improve health outcomes. With advanced training, they can specialize to address specific forms of illness or patient populations (like children, women, or seniors). The median annual salary for registed nurses in 2012 was $64,470. [i]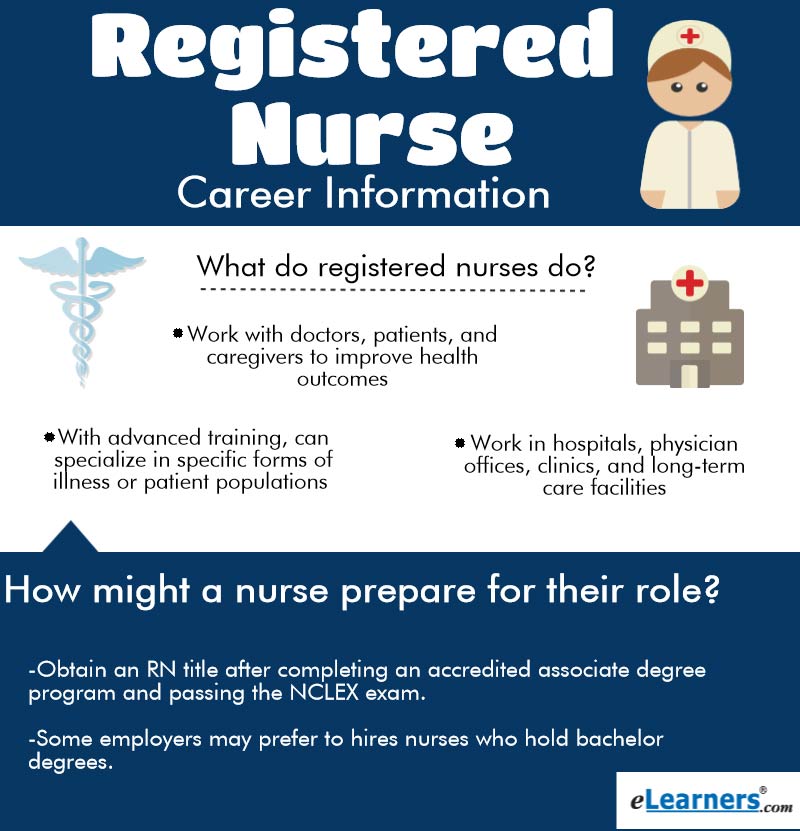 How Might One Prepare for Becoming a Registered Nurse?
You can obtain an RN title after completing an accredited associate degree program and passing the NCLEX exam. Some employers prefer to hires nurses who hold bachelor degrees. And in fact, the popularity of the BSN (bachelor of science in nursing) has prompted many schools to offer online RN-to-BSN programs.
Can I Earn an Nursing Degree Online?
If you don't already have hands-on, clinical training in nursing, but you'd like to study nursing online, you might consider earning your LPN credential first. Licensed practical nurse programs (often certificate or diploma programs) must be completed in person. Afterward however, you may be able to complete an LPN-to-BSN program online, and work toward your RN credential that way.
Which Online Degrees Might Support a Registered Nurse Career?
Again, you can't study nursing online unless you have already completed some in-person, clinical training. You must already have earned either an LPN or an RN. With one of those credentials in hand, you could apply to earn your BSN or MSN through an online program.
---
[i] bls.gov/ooh/healthcare/registered-nurses.htm