An Interveiw with Sheryl Ness, Oncology Nurse and Educator at the Mayo Clinic Cancer Center
A celebrated voice in the oncology nursing community, Sheryl Ness is a truly inspiring example of a nurse and educator who has diversified the meaning of a nurse's role in the healthcare industry. Ness is currently a nurse educator at the Mayo Clinic Cancer Center in the Cancer Education Program, where she has earned an "Excellence in Leadership" award for helping patients and their families with cancer-related questions and educating nurses on oncology treatment topics.

Sheryl Ness began her education with an Associate degree in Nursing at Rochester Community College in Minnesota. She went on to earn her Bachelor of Science in Nursing degree from Bethel College and then a Masters in Transcultural Nursing degree from Augsburg College. Ness says her reason for pursuing a degree in Transcultural Nursing was the importance of being able to understand differences in cultures and how that translates to health and the healthcare experience. She has spent most of her career at the Mayo Clinic where, before she became an oncology nurse instructor, she worked as a clinical and research nurse in endocrinology and neurology with a focus on Alzheimer's disease.
While being an educating voice at the Mayo Clinic, Sheryl Ness has influenced nurses and healthcare workers by conducting webinars and lectures on topics such as Best Practices in Education for Cancer Survivors and Educating Patients through Social Media. She also adds her voice to the healthcare community with her "Living with Cancer Blog" and her contributions to articles in health journals like the Oncology Nursing Forum and Journal of Cancer Education.
Read on to find out how Sheryl Ness has translated her ambition and degrees into a non-traditional nursing career that makes a meaningful impact on the nurses, patients, and families of the healthcare community.
eLearners: Tell us more about your background and education. What led you to earn your degrees in nursing and transcultural nursing? 
Working at Mayo Clinic, I found that many of our patients were not local. In fact, early in my career I worked frequently with international patients. As I considered a master's degree in nursing, my focus on understanding cultures and how that translates to health and the healthcare experience was important to me. Transcultural nursing was a perfect way to continue my education and focus on this particular aspect of health care.
eLearners: In your own words, can you give us a definition of an RN to BSN degree for someone who may not be familiar with that course of study?
My definition of RN to BSN degree is taking the experience and knowledge of a practicing RN and building on it with additional skills that are the focus of a BSN, including leadership, theory and advanced practice skills.
eLearners: Tell us more about your responsibilities in the professional positions you've held. How has earning your degrees prepared you for those roles?
Earning a BSN helped me to advance my career in the field of clinical research. I wanted to expand my knowledge and the skills to work in other clinical areas at Mayo Clinic. I really wanted a very non-traditional nursing experience (not bedside nursing), and this helped me attain that goal. During this time, I also worked to develop strong leadership skills which have been very valuable to me in my career.
eLearners: Please explain your different roles in the healthcare community (blogger, educator, manager, nurse) and how your education has contributed to them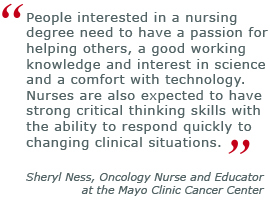 My formal education, along with the practical experience gained throughout my career, has allowed me to continue to grow my knowledge and skills. Early on, as a clinical nurse, I focused on learning from a very scientific perspective. This gave me the knowledge needed to translate the understanding to teach both patients and nurses later in my career. As I continued on the path, my leadership skills grew out of continued learning, additional confidence, and experiences with others (both positive and negative). When I became a manager, I took all of the positive aspects that I enjoyed in other leaders and translated that into my mantra. I focused on collaboration, innovation, and trust while encouraging my team to achieve their personal and professional goals. Later on, as a writer and blogger, I honed my writing skills, and translated this from writing a formal printed newsletter to having more of a conversation online to support cancer survivors.
eLearners: In your opinion, what is the most exciting or rewarding thing about the work you do?
The most exciting thing that I do in my work is to make a difference in the lives of cancer patients and their families. I do this by listening, guiding, educating and supporting them in their journey. I also love mentoring others who are interested in blogging and using social media to interact with patients and families.
eLearners: From your experience, can you discuss the role of an oncology nurses in the healthcare industry?
The field of oncology is complicated and ever changing. I think it's important to have specialty knowledge to work within the field. This is why I feel that OCN certification* for oncology nurses is so important.
*Ness earned an Oncology Nurse Certification (OCN), which she says may be an excellent way to be as-up-to-date as possible on all aspects of clinical oncology.
eLearners: Do you think that it is an ideal time to pursue a nursing degree?
I think it is an ideal time to pursue nursing. The profession is exciting and challenging. With the aging of the Baby Boomer generation, older adults may add to the need for additional nurses in the healthcare setting. It's also an exciting time to enter the field, with new innovations and technology allowing us to care for people in ways that we never did before (such as using telemedicine and social media).
eLearners: How does an RN to BSN degree program differ from a traditional RN education? 
RN to BSN degree program is a model that differs from a traditional BSN education in that students are already practicing RNs who have real-life experience in the field. The program is designed to recognize this and build on those skills through education that is designed for adult learners, delivered in a manner that may be non-traditional in nature (online, evenings and weekend classes). I enjoyed building on my education this way. I think I appreciated what I was learning to a much higher degree and also was able to apply what I was learning immediately in my everyday practice.
eLearners: How does taking the online program for RN to BSN differ from a campus-based program? 
Learners who are enrolled in an online program should expect to have regular contact with their instructors and other students. It does take a bit more discipline to keep deadlines for assignments and postings for discussions. It also takes positive motivation to get what you would like out of the experience. Students also need to be comfortable with technology and using a variety of different applications. However, the flexibility is a huge benefit. You can work on assignments from a remote setting when it is best for your schedule.
eLearners: Which skills do you think are necessary for pursuing a nursing degree?
People interested in a nursing degree need to have a passion for helping others, a good working knowledge and interest in science as well as a comfort with technology. Nurses are also expected to have strong critical thinking skills with the ability to respond quickly to changing clinical situations. Additional skills strongly needed are effective teamwork and communication skills. These are vital skills needed as a foundation to working in a healthcare setting.
eLearners: What advice do you have for students pursuing an RN to BSN degree and how can students prepare themselves for the challenges?
I would encourage anyone interested in a BSN degree to research all available programs of interest. It is also helpful to shadow other nurses (with BSN degrees and advanced nursing degrees) to explore both traditional and non-traditional roles within the profession.  Prepare to dedicate the time and energy needed to complete the program successfully. It's helpful to have a career goal in mind so that you can work toward that goal as you are learning.
---
The expert interviewed for this article may be compensated to provide opinions on products, services, websites and various other topics. Even though the expert may receive compensation for this interview, the views, opinions, and positions expressed by the expert are his or hers alone, are not endorsed by, and do not necessarily reflect the views, opinions, and positions of [eLearners.com] or EducationDynamics, LLC. [eLearners.com] and EducationDynamics, LLC make no representations as to the accuracy, completeness, timeliness, suitability, or validity of any information in this article and will not be liable for any errors, omissions, or delays in or resulting from this information or any losses or damages arising from its display or use.