6 Sponsored Online Programs Available
Online Nursing PhD Programs
Earning your PhD in Nursing Online degree may help develop the skills and knowledge necessary to enhance your career. Typically, students choose between a Doctor of Nursing Practice (DNP) or a Doctor of Philosophy (PhD). Students may also have the option of choosing a specialty or concentration. The specialization of a PhD in Nursing Online degree aims to prepare students for careers in certain Advanced Practice Registered Nurse (APRN) roles.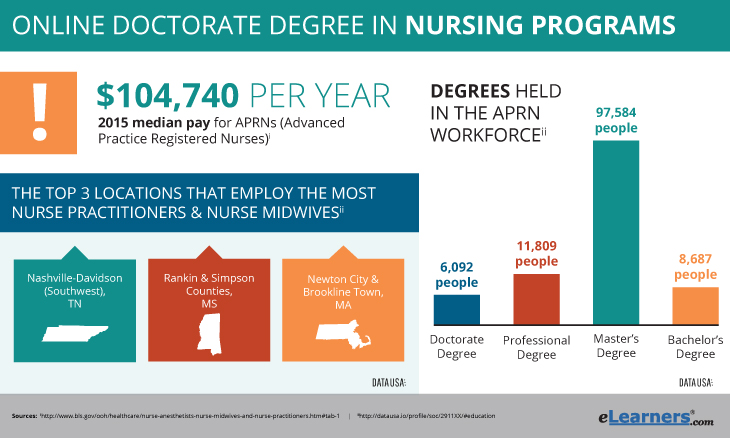 Earning your Phd in Nursing Online
When deciding on where to earn your online doctorate in nursing degree it's important to know your goals so you can pick a concentration for your studies. Having a clear understanding of your goals and ambitions after earning your PhD in Nursing Online may help you get more out of your time at school.
Possible Specialties or Concentrations for a PhD in Nursing Online
When pursuing your PhD in Nursing Online, you may have the option of selecting a specialization or concentration for your studies. This may help focus your coursework so that you can acquire complete and in-depth knowledge about a specific subject. Some of the specializations available include, but aren't limited to the following:
Nurse Anesthesia: This Doctor of Nursing Practice (DNP) prepares students to provide anesthesia to a diverse and surgical population. Many programs focus classes into the first year. Then, the second and third years are focused on clinical rotations.
Adult-Gerontological Acute Care or Primary Care Nurse Practitioner: Students who focus on acute care are shown various methods to improve outcomes for acutely and critically ill adult patients. This includes assessment, diagnostic, and treatments skills. Those who wish to specialize in primary care may learn person-centered primary care methods to adolescents and adults and the management of episodic and chronic conditions and disease prevention.
Pediatric Acute and Primary Care: This program within a PhD in Nursing Online focuses on providing students with blended coursework and exceptional clinical experiences. This prepares students, and provides the skills and knowledge necessary to work in a number of different pediatric clinical settings.
Family Nurse Practitioner: The goal of this program contained within a PhD in Nursing Online is to educate nurses through didactic and clinical experiences to provide them with the skills and knowledge necessary to enter a primary care practice. The coursework prepares students to become board certified.
Health Systems: A Doctor of Nursing Practice in Health Systems prepares nurses for executive leadership roles in health care by providing the skills and knowledge necessary to excel in quality improvement, evidence-based management practices, and systems management.
Accreditations for PhD in Nursing and Online DNP Programs
The main accreditation for universities and institutions offering a Doctor in Nursing Practice (DNP) or Doctor of Philosophy in Nursing (PhD) is the Commission on Collegiate Nursing Education (CCNE) by the American Association of Colleges of Nursing. The goal of the CCNE is to serve the public interest by assessing and identifying programs that provide effective educational practices.
There are many other accreditations for specific specialties and concentrations. These include, but aren't limited to the following accreditors:
American Midwifery Certification Board
National League for Nursing's Nurse Educator Competencies
Accreditation Commission in Nursing
Online BSN to DNP Programs
Registered nurses (RN) who have already earned a bachelors of science in nursing (BSN) have an option of directly acquiring a Doctorate of Nursing Practice (DNP) degree.
After earning your degree, some schools award both a masters of science in nursing as well as the DNP. Others only grant students a DNP upon graduation. Also, the length of time it takes to earn your BSN to DNP programs vary from school to school. One of the main benefits of earning your BSN to DNP degree online is that you won't have to earn an MSN in between. This may provide you with the most direct path to earning your DNP.
Most universities and institutions provide students with many of the same specialty and concentration options. However, depending on the school, there may be fewer options. Many of the programs emphasize evidence-based approaches to healthcare and the administrative, organizational, and leadership skills. Hence this may help graduates develop the skills and knowledge necessary to succeed in the complex health environment.
What Is an ARPN?
An Advanced Practice Registered Nurse or APRN is a nurse with a post-graduate degree in nursing. While acquiring their education and experience, APRNs typically acquire in-depth knowledge in the assessment, planning, implementation, diagnosis, and evaluation of the care required.
Typically, APRN education falls into one of four recognized areas of specialization. In each of the four, but especially nurse practitioners, students may have the option of pursuing sub-specialties or concentrations. The four recognized areas of specialization are as follows:
Nurse Anesthetists
Nurse Midwives
Clinical Nurse Specialists
Nurse Practitioners
Fun Fact

The first nursing school in history dates back to 250 B.C. and was located in India.
DNP vs. PhD
There are two main types of degree options for those who decide to pursue a PhD in nursing online. These are a Doctorate in Nursing Practice (DNP) and a Doctor of Philosophy (PhD.). While there are similarities between the two, there are some important differences. It's important for you to research individual programs and find the one that's perfect for you for your PhD in Nursing Online.
Online DNP Programs (Doctor of Nursing Practice)
A Doctor of Nursing Practice (DNP) is more focused on preparing students for actual nursing practice. Coursework and clinical rotations focus on providing students the knowledge and skills necessary to apply and translate research into practice. This may include improving systems of care, measuring outcomes of patient groups and populations, and leading dissemination and integration of new knowledge in healthcare organizations.
Online Nursing PhD Programs (Doctor of Philosophy)
A Doctor of Philosophy (PhD) in Nursing helps prepare students for nursing research. Classes and projects are focused on providing students to conduct research that advances the global theoretical foundations of nursing and healthcare. Typically, this is through interdisciplinary research teams and research studies. Yet it may also include addressing trajectories of chronic illness and care systems.
What to Expect When Earning Your Online Doctorate in Nursing
Earning your online DNP or PhD in nursing includes many components. But all are focused on providing you with a degree, a PhD in Nursing Online degree, that may enhance your career. These components are common courses you may take while earning your doctorate in nursing and certificates that may be required for you to become an ARPN.
Common Courses When Earning Your Doctorate in Nursing
Coursework for your PhD in nursing or DNP may vary depending on whether you choose a specialty or concentration. Typically, coursework will include classes that focus on research and evidence-based study, as well as hands-on learning.
Common courses may include these subjects:
Biomedical Informatics: Students are taught computer and information science as an overview of the field of biomedical informatics. This includes electronic health records, decision support systems, security and confidentiality, evidence-based practice, and public health informatics. This is combined with current issues in research, training, and clinical practice.
Principles of Epidemiology: This course provides students with concrete skills to understand and critique articles from medical literature. Students may also work in groups to develop an epidemiology study design to address a clinical hypothesis and learn the various types of epidemiology.
Advanced Nursing Science for the DNP, Family Theory: The focus of this course is the development and refinement of critical thinking skills to achieve the advanced practice of nursing. Typically, this course weighs heavily on theory and evidence-based research. It also focuses on disease prevention and management strategies for patients facing acute health problems.
Pharmacology for Nursing Care: Lessons focus on building upon pharmacological knowledge from earlier courses and drug therapy most commonly seen in specific clinical settings. This course shares with students' safe drug administration and continued study methods.
Leadership and Management in Professional Nursing Practice: Students are taught leadership and management in nursing. Typically, lessons focus on leadership, decision-making theories, power and influence, team building, communication, and problem solving skills.
Nursing Certificates to Consider After Earning Your Online Doctorate in Nursing Degree
There are many certificates in the nursing field that standardizes APRN requirements. This model recommends that all APRNs receive a graduate degree from an accredited school, be a licensed registered nurse, pass a national certification exam, and earn a second license in a specialty.
The national certification exam is the:
National Council of State Boards of Nursing
The licenses and certifications in the specialties include may come from these organizations and others:
The National Board of Certification and Recertification for Nurse Anesthetists
The American Midwifery Certification Board
American Nurses Credentialing Center
Pediatric Nursing Certification Boardi
There may also be certain regional or state certificates that you need to practice. You should check with current or future employers to make sure you meet all of the requirements.
Career Options for APRNs
Because Advanced Practice Registered Nurses (APRNs) can perform many of the same services as physicians, the United States Bureau of Labor Statistics expects the number of APRNs to increase a combined 31% during the years 2014 to 2024. That's because APRNs will be needed to provide preventative care and primary care in a number of different settings.ii
Currently, the median annual salary for specific APRN roles are:
Nurse Anesthetists: $157,140 (2015 Median Annual Salary)
Nurse Practitioners: $98,190 (2015 Median Annual Salary)
Nurse Midwives: $92,510 (2015 Median Annual Salary)
Fun Fact

The most visits to emergency rooms occur during the warmer months of the year.
Take the Next Step to Earn Your Online Doctorate in Nursing
Continue your research about Online Nursing PhD Programs on this page. Click on any of our sponsored listings to find out more information about specific schools and programs. This information may include specific classes, specialties, and faculty. From there, speak directly to school recruiters who may be interested in you!
---
[i] bls.gov/ooh/healthcare/nurse-anesthetists-nurse-midwives-and-nurse-practitioners.htm#tab-4 [ii] bls.gov/ooh/healthcare/nurse-anesthetists-nurse-midwives-and-nurse-practitioners.htm#tab-6