What Does it Take to Complete a RN To BSN Program Online?
Florence Nightingale once said, "Nursing is an art: and if it is to be made an art, it requires an exclusive devotion as hard a preparation, as any painter's or sculptor's work…"
Nursing may be technically considered a science, but real-life nurses know it takes a special blend of compassion and caring as well as medical skills and knowledge to become truly successful in the field. 

For many busy adults juggling work and family responsibilities, the science part of the equation – or rather, earning the necessary medical credentials – can feel like an insurmountable obstacle. That's why Elaina Mahlan (RN, MSN/Ed., FCN), a full-time Kaplan University faculty member, has become a champion for online RN (Registered Nurse) to BSN (Bachelor of Science in Nursing) programs.  Flexible and adaptive to students' needs and busy lives, these programs are geared towards students who are already licensed, practicing nurses with associate degrees or nursing diplomas who want to earn their BSN. 
When she's not designing curriculum for online nursing programs at Kaplan University, Mahlan can be found writing about nursing education for articles on LinkedIn and the Nurses Without Borders website.  Mahlan began her educational journey at Polk Community College, where she graduated with an Associate of Science in Nursing.  She then earned her Master of Science in Nursing/Specialty Education from Walden University. Today, she is pursuing a Master of Science in Health Education from Kaplan University, where she is a full-time faculty member. She is also holds the Faith Community Nurse Certification which gives her opportunity  to promote community health within a faith setting.
Continue reading to discover how Mahlan became so passionate about the field of nursing education, why she believes in the versatility of online RN to BSN degree programs, and how online nursing programs are helping remove barriers for busy, adult students.
eLearners: Can you describe a typical online RN to BSN nursing program? 
Registered nurses are facing complex demands within our modern healthcare system. RN to BSN education is designed to empower practicing nurses to meet these demands. At Kaplan University, we survey the deeper underpinnings of our profession in terms of theory. We investigate the value of evidence-based practice as well as the opportunity to contribute to scholarly evidence. We examine barriers and strategies to caring for people of diverse populations. We audit our role as interdisciplinary healthcare professionals. Online programs simply accomplish these objectives without the geographical and schedule barriers faced by students within ground programs. We do this by connecting our authentic practice experiences to scholarly and professional concepts and precepts via dialogue, reading, research, and reflection.
eLearners: How are these programs different from more traditional campus programs?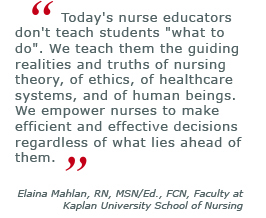 Online programs are uniquely designed for adult learners. Adult learners are incredibly busy students. They are actively engaged in and advancing their careers. They are often raising and caring for family members. They frequently serve in their communities. Online learning programs are designed to maximize the efficiency and effectiveness of the busy adult learner. Curriculum is designed to specifically meet the requirements of professional accrediting agencies and industry employers. Precious time is not wasted on superfluous endeavors. And of course, classroom access is 24 hours a day, 7 days a week to accommodate the adult learner.
eLearners: What types of students are ideally suited to online RN to BSN nursing programs? 
Online learning is growing by leaps and bounds, especially in nursing programs. Nurses who are motivated to strengthen their professional careers and nursing practice may be best suited to online RN to BSN programs. Nurses who perform best in these programs are those who are willing to learn about themselves and about new ways of learning.
eLearners: Have you developed curriculum for these types of programs before?  How is it different from developing curriculum for a campus program?
I do develop curriculum for these types of programs. Curriculum development for online programs embraces the same principles as all good curriculum- a learner-centered environment, a focus on essential content, and a multi-modal approach to meet the needs of a diverse learning audience. However, in the online world, we recognize the potential for students to feel isolated from their co-learners and instructors due to geographical distance. To avoid this pitfall, we consciously design learning activities that increase peer and instructor engagement.
eLearners: What are the biggest challenges in the field of nursing right now?
Today's nurses are faced with new and increasing challenges related to advancing technology, population diversity, and cost-containment. Every day, these challenges press nurses to make decisions which they have never previously encountered or even considered. Today's nurse educators don't teach students "what to do". We teach them the guiding realities and truths of nursing theory, of ethics, of healthcare systems, and of human beings. We empower nurses to make efficient and effective decisions regardless of what lies ahead of them.
eLeaners: Tell us more about your education and career background.
Like many nurses, my professional career developed alongside of my growing family. During my sons' high school years, our family embraced online education for the first time. We were thrilled to discover its many benefits. This led my husband and I to both pursue master's degrees online. In addition, several of our children have (and are pursuing) advanced degrees online. Online education is not simply a venue where I make a living. It is a medium of lifelong learning for my entire family.
eLearners: What are your top tips for students entering an online RN to BSN nursing program? 
Begin by clarifying your own goals and motivations. Those driving forces will sustain you during the challenges you will certainly encounter. Also, be patient with yourself and with the learning process. Nursing education is a lifelong journey; it is not a destination that ends with a degree. There are many valuable and exciting things to learn, but no one can master everything overnight. Remember that regardless of experience level or academic skill, everyone has something to learn and something to teach others.
eLearners: Is there anything else you would like to share that you feel would be valuable to students who are considering studying nursing?
Nursing is a respected and rewarding profession. The chance to make a career of helping others in such a personal and profound way is an amazing opportunity. But great reward only comes in the face of great challenge. If you are a compassionate person who appreciates the chance to rise to a challenge, then I encourage you to follow your instincts to pursue nursing.
Are you interested in a nursing career? Check out nursing resource and find answers to your questions as well as free listings on onlinde degrees and diplomas!
---
The expert interviewed for this article may be compensated to provide opinions on products, services, websites and various other topics. Even though the expert may receive compensation for this interview, the views, opinions, and positions expressed by the expert are his or hers alone, are not endorsed by, and do not necessarily reflect the views, opinions, and positions of [eLearners.com] or EducationDynamics, LLC. [eLearners.com] and EducationDynamics, LLC make no representations as to the accuracy, completeness, timeliness, suitability, or validity of any information in this article and will not be liable for any errors, omissions, or delays in or resulting from this information or any losses or damages arising from its display or use.