27 Sponsored Online Programs Available
Earning Your Masters in Nursing Online
Earning your masters in nursing online may provide you with the expertise in concentrations such as nurse informatics, midwifery, family nurse practitioner, or even education. Courses focus on theory, application, as well as hand skills and coordination.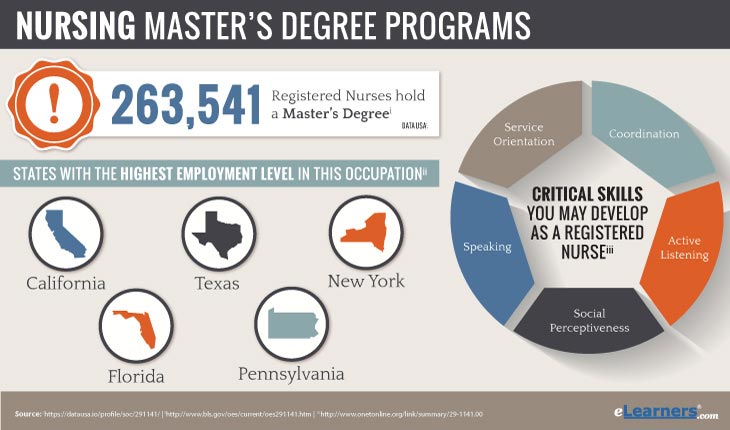 Earning Your Masters in Nursing Online
When pursing your masters of science degree in nursing it's important to research individual schools and their admission requirements. Some schools require you have an active, unencumbered license to practice as a registered nurse and hold a bachelors degree. Other programs may require that you graduated with your bachelors degree in nursing with at least a 3.0 GPA, although some nursing schools for MSN programs will accept low gpa!
Fun Fact

Linda Richards became the first nurse to earn a nursing diploma in the United States in 1873.
Different Masters in Nursing Online Degrees
There are a number of different names for masters in nursing online degrees, but typically they're similar in scope. The variations normally include and account for optional specialties or concentrations. All masters in nursing degrees are masters of science degrees, or M.S. This can also be shown as a masters of science in nursing, M.S., or M.S.N.
Some of the different nursing master degree names are as follows:
Master of Science in Nursing
M.S. Nursing
M.S.N. in Pediatric (Primary Care) Nurse Practitioner
M.S. in Nursing – Family Nurse Practitioner (available with NO GRE options)
Master of Science in Midwifery
M.S. with Major in Nursing and Minor in Nursing Education
M.S.N. Adult Geriatric Nurse Practitioner
Master of Science in Nursing – Nurse Executive Leader
Possible Concentrations When Attending Online Nursing Masters Programs
Many masters in nursing degree programs offer students the option to pursue a specialty or concentration. This may provide students with an even deeper understanding of a particular aspect of nursing. Not all schools offer all of these options, so it's important that you research individual programs to find the one that's perfect for you.
Some of the possible specialties or concentrations when earning your masters in nursing online include, but aren't limited to these:
Adult-Gero Primary Care Nurse Practitioning: This is a concentration of a nursing masters online for registered nurses interested in primary or specialty care. It's focused on providing students with expert training in the diagnosis, treatment, and management of acute and chronic illness in patients over the age of 13.
Midwifery: This program teaches students the cognitive knowledge of a beginning midwifery practitioner. Training and coursework focus on both theory and hands-on clinical practice. This provides students the opportunity to enhance their communication and understanding of best practices, as well as hand skills and critical reflection.
Education: This masters in nursing specialty provides students with courses to learn how to effectively teach and nurture health care practitioners. Typically, this is through theoretical and evidence-based research to help develop expertise in assessment, teaching and learning strategies, and evaluation.
Family Nurse Practitioning: This program typically prepares students and registered nurses to fulfill the role of a family nurse practitioner responsible for managing the care of families in the primary care setting. Students are taught how to become clinical experts who apply cutting-edge science and manage the health of patients and implement a holistic approach.
Women's Health Nurse Practitioning: Through advanced courses in pathophysiology, pharmacology, and health assessment, this program shows students how to become compassionate caregivers to women in a number of different settings. This masters in nursing degree aims to teach students the skills and knowledge to treat and prevent illnesses unique to women during primary care, prenatal and postpartum, menopause, and reproductive health care.
Nursing Informatics: As technology continues to shape our world, there has been an increase in demand for electronic information systems in health care organizations, as well as businesses that develop and sell health care information technology. Students in this masters degree in nursing online specialty analyze nursing information requirements, design system alternatives, manage information technology, identify and implement user-training strategies, and evaluate effectiveness of clinical information systems.
Registered Nurse to Masters of Science in Nursing (RN to MSN):
A Registered Nurse to Masters of Science in Nursing, or RN to MSN, is another option for those who have an associates degree in nursing (ADN) and want to earn an advanced degree. This allows students to earn their masters in nursing online by combining a bachelors in nursing and the masters degree into one continuous program. This provides students the opportunity to earn their masters of science in nursing faster than if they earned the bachelors in nursing and masters degree separately.
Like online masters in nursing degree programs in general, this may help you save time, money, and energy. Those who commonly choose the RN to MSN degree path already have a job and enjoy the flexibility provided by the program. This may allow you to continue in your current field while preparing to pursue new roles.
Common Coursework When Pursuing Your Masters Degree in Nursing Online
There are similarities between many masters in nursing online degree programs. For instance, in all nursing education programs, curriculum includes anatomy, physiology, microbiology, chemistry, nutrition, and psychology. i
Also, most masters in nursing online programs combine theory and application during coursework. Students are taught through readings, seminar discussions, problem-based learning, writing, demonstrations, case studies, and examinations. Some of these common courses may include, but aren't limited to:
Advanced Nursing Concepts: Students analyze the history and evolution of nursing conceptual models and theories. This includes examining the links between empirical, aesthetic, ethical, personal, and sociopolitical patterns of nursing with conceptual models and paradigms of nursing.
Advanced Health Assessment: In this course, students build on previous clinical experience and undergraduate coursework to master communication strategies and health assessment skills. This is done through comprehensive, evidence-based health assessments that encompass environmental, genetic, multicultural, ethnic, and socioeconomic factors.
Advanced Physiology & Pathophysiology: This course examines the human physiology and pathophysiology from a molecular, cellular, tissue, organ, and system perspective. It may also cover related diseases that are important to advance nursing practice.
Research Methods and Biostatistics for Healthcare Providers: During this course, students are provided with an overview of quantitative and qualitative research methods commonly used in systematic clinical inquiry by health care providers. Students are instructed in best techniques, use of research design, and methodology through analytic tools.
Critical Concepts and Competencies for the Informatics Nurse Specialist: Students are presented with the field of health care informatics, information, and communication technology. This technology-based course includes the theories, frameworks, and competencies that shape informatics. This course provides content on terminology and the system lifecycle including, internet technologies, hardware and software applications, and networked environments.
Common Accreditations for Masters in Nursing Online Degrees
When it comes to masters in nursing online degrees, the most recognizable accreditation is from the:
Commission on Collegiate Nursing Education
There are many other accreditations for specific specialties and concentrations. These include, but aren't limited to the following:
American Midwifery Certification Board
National League for Nursing's Nurse Educator Competencies
Accreditation Commission in Nursing
Fun Fact

Florence Nightingale, the most famous nurse in modern history, was only a nurse for three years.
Possible Career Options After Earning Your Online Masters in Nursing Degree
After earning your masters in nursing online, there may be a variety of career options, which is why choosing a specialty or concentration may be perfect for you. For those seeking to become Clinical Nurse Specialists (CNSs), a masters degree in nursing online and typically one or more years of work experience as an RN or a related position is required.i [i] And for positions referred to as Advanced Practice Registered Nurses or APRNs, such as nurse anesthetists, nurse midwives, and nurse practitioners, applicants must have at least a masters degree.ii
The United States Bureau of Labor Statistics (BLS) expects a 31% increase in employment for nurse anesthetists, nurse midwives, and nurse practitioners for the years 2014 to 2024. Independently, they expect a 19% increase for nurse anesthetists, a 25% increase for nurse midwives, and a 35% increase for nurse practitioners. This is because of a large number of newly insured patients and an increase in preventative care. iii
Next Step to Earning Your Online Masters of Science in Nursing Degree
There may be many options available to you when you're deciding to pursue your online masters in nursing degree. It's important that you take the time to research individual schools to find the perfect masters in nursing online degree program for you. Click on any of the sponsored listings on this page to get more information about a particular school and program.
---
[i]bls.gov/ooh/healthcare/registered-nurses.htm#tab-4 [ii]bls.gov/ooh/healthcare/nurse-anesthetists-nurse-midwives-and-nurse-practitioners.htm#tab-4 [iii]bls.gov/ooh/healthcare/nurse-anesthetists-nurse-midwives-and-nurse-practitioners.htm#tab-6